Why Life and Critical Illness Insurance?
Life and Critical Illness cover pays out a cash lump sum should you pass away or suffer a serious illness.
The critical illness element covers a range of serious illnesses including (subject to severity) cancer, heart attack and stroke.
Provides you with peace of mind you and your loved ones are financially protected against serious illness and death.
What is it for?
What does Life and Critical Illness Insurance cover?
On Death
Should the worst happen it will trigger a claim on the life insurance element of the policy paying a tac free cash lump to your beneficiaries.
Terminal Illness
Many life insurance plans include an early payout clause if you are diagnosed with less than 12 months to live.
Critical Illness Cover
The critical illness element of your policy would pay a claim should you suffer one of between one of typically 10 to 100+ critical illnesses defined by the policy, with the main three being heart attack, cancer and stroke.
What does it cover?
How does Life Assurance work?
Stage 1:
You pass away during the life of your plan.
Stage 2:
A claim is made with the insurer providing evidence of the illness or death.
Stage 3:
The insurer pays a lump sum equal to the sum assured either into trust or directly to the other policyholder if it was a joint plan.
Stage 4:
Any payout can be used by the beneficiaries however they see fit, it is most often used to meet financial commitments during these difficult times.
How does it work?
Do I need Life and Critical Illness cover?
Although neither life or critical illness cover is compulsory, if you have a mortgage or young family it is certainly worth considering.
What is the risk of passing away?
Based on ONS life expectancy data, the chances of someone passing away in the next 10 years are as follows:
| | | |
| --- | --- | --- |
| 30 years old | 40 years old | 50 years old |
| 1 in 112 | 1 in 53 | 1 in 23 |
Do I need cover?
Your Key Options
Choose Your Level of Cover
It is important to consider any outstanding level of debt such as mortgage and other associated costs which may affect yours or your dependants standard of living.
Choose Your Length of Cover
Depending on whether you are protecting a mortgage or your loved ones, the length of cover is often aligned with the length of your mortgage or until an age when your dependants are likely to be self-sufficient.
Level or Decreasing Cover?
Opting for level or decreasing cover will depend on what you are looking to protect. For example, a repayment mortgage is likely to be protected by a decreasing policy.
Including Critical Illness Cover
This will mean that your policy will pay out if you suffer any of the critical illnesses outlined in the policy's terms, subject to the severity of your condition.
What are my options?
Compare Top 10 UK
Protection
Insurers

Takes approx. 60 seconds

Excellent service from start to finish. Both Jack & Jake were both helpful and polite through the process. I would recommend Drewberry to family and friends.
Trevor Massey
22/01/2019
What is life and critical illness insurance?
Combining life insurance with critical illness cover protects yourself against both the risk of death and serious illness.
The policy when structured correctly is designed to pay out a tax free lump sum either on suffering one of the serious illness as defined by the insurers terms or on death.
Life insurance combined with critical illness insurance is most often used to protect a mortgage, however it can be used for other purposes such as family protection.
The policy can be set-up on either a single or joint life basis and can be used to protect either a fixed lump sum or an amount which continues to decline over the life of the plan.
Do I need this protection?
Most of us consider our protection needs at certain key lifestyle events such as getting married, buying a home or having a child. Regardless of how you have come to consider your protection needs, there is one very important question to ask.
How would your loved ones would cope financially
should the worst happen to you?
If you foresee a level of financial hardship should a serious illness or death occur it is worth considering what options you have available to protect yourself and your loved ones against these risks.
A level or decreasing life and critical illness plan will pay out a lump sum, if you would rather consider a policy which paid out a regular monthly income rather than a lump sum it is worth considering either a family income benefit to protect against death and income protection to protect against ill health.
What does the critical illness element cover?
Where life insurance pays out on death, the critical illness element of the plan provides financial protection against the risk of serious illness.
As with life cover it will still pay out a lump sum however that lump sum will be paid out should you suffer one of the critical illnesses at a set severity as defined by the insurer's terms.
A typical number of illnesses covered by Critical Illness Insurance is around 40, although some will cover fewer than 10 illnesses and others will cover more than 100. The most common claims on these policies are heart attacks, cancer and strokes. It is important to read through the fine print with any critical illness policy as the definitions of an illness which meets the criteria for a successful claim can vary considerably from insurer to insurer.
Some of the most common conditions covered by critical illness insurance are as follows:
Heart Attack
Cancer
Stroke
Coronary Artery By-Pass Surgery
Alzheimers
Blindness
Deafness
Kidney Failure
Major Organ Transplant
Parkinson's Disease
What is decreasing cover?
Any form of decreasing cover whether it be life assurance only or includes critical illness insurance it is most often used to protect a repayment mortgage.
With a repayment mortgage you are repaying the principle loan and so over time the outstanding mortgage declines to zero. Decreasing protection products work in exactly the same way, the level of cover they provide declines over time in line with the amount outstanding on the mortgage until they both reach zero at the end of the policy term.
The decreasing option is the most cost effective way of protecting a repayment mortgage.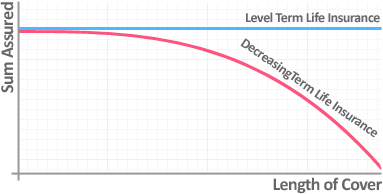 What is level cover?
Level term cover provides you with a fixed sum assured for the entire length of your policy, if you opt to cover £100,000 your policy would pay out the full £100,000 at any point during the policy term should the worst happen.
Most often a level term policy is used to protect an interest only mortgage. As you never pay off the principle on an interest only mortgage you need the level of protection to remain fixed for the life of your mortgage to ensure the principle would be repaid should the worst happen.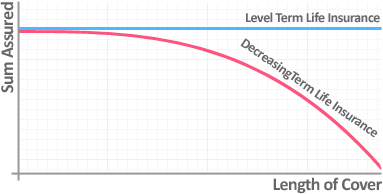 Do I need to write the policy into trust?
Writing your policy into a trust would result in a claim being paid directly into the trust which would then be distributed to the nominated beneficiaries.
Writing a policy into trust is the best way to ensure the insurer pays out quickly and the lump sum benefit gets paid to the correct beneficiaries tax free.
It is important to note that where on death you may want any benefit payment to get to your beneficiaries quickly, if you were to survive a critical illness and receive a payment it is likely that you would want receive that payment yourself.
When setting up a trust there is often the option to split out death payments and critical illness payments so you would receive any critical illness payment directly.
Our experts our on hand to deal with the technical jargon and help you with all the paperwork so please do not worry too much, we can make sure it is all set-up correctly for you.
It is essential that you are clear in trust documents about not only to whom the benefit will be paid but when and in what circumstances the benefit will be paid. This includes what the payout is for (e.g. clearing the mortgage vs family protection).
Do I need advice?
We specialise in knowing protection insurance inside out, providing completely independent advice we are here simply to make your life easier.
If you cannot find what you are looking for online our in-house team of insurance experts our on hand to answer your questions and provide you with the necessary information to make and informed decision, please do not hesitate to contact us on 0208 432 7333.
Life Expectancy Calculator
Your Life Expectancy Results
Our Mission at Drewberry™
To provide expert financial advice and deliver a passionate 5-star service to help educate our clients so they can make informed decisions.
To help individuals and businesses throughout the UK to plan their financial future whilst protecting them against the financial risks they may face.
To provide quality financial advice in a transparent, friendly and professional manner.
Frequently Asked Life Insurance Questions
Having had our first child we are looking at are life insurance options, Are we able to take out a joint...
As my husband and I are about to buy our first home we need to look at Life Insurance. I've got...
I've just left my job to go freelance and need to replace the old Life Insurance policy I had...
I'd like to take out life insurance but I've smoked cannabis once a week for the past few...