Why Decreasing Term Life Insurance?
Decreasing Life Insurance pays out a tax free lump sum on death ensuring your loved ones are financially secure.
Provides you with peace of mind knowing those closest to you will be financially safe should you pass away.
Include critical illness insurance to provide a cash lump sum should you suffer a serious illness such as cancer.
What is it for?
What does Decreasing Life Insurance cover?
On Death
Decreasing life cover has a level of cover which declines to zero over the length of the policy.
As the level of cover declines over time the longer you hold the policy the lower the payout should a claim arise.
Decreasing term insurance is most commonly used to protect a repayment mortgage.
Critical Illness Cover
An optional extra to include within your life plan it protects you against the risk of serious illnesses such as heart attack, cancer and stroke, in total covering between 35-50 serious illnesses.
What does it cover?
How does Decreasing Life Insurance work?
Stage 1:
You die during the term of your policy.
Stage 2:
Your loved ones make a claim with the insurer providing your death certificate as evidence for the claim.
Stage 3:
The insurer pays out the claim either into the discretionary trust or directly to the other policyholder if it was a joint plan.
Stage 4:
The cash payout is paid out tax free and can be used to ensure your repayment mortgage and/or other debts are paid off.
How does it work?
Do I need Decreasing Term Life cover?
Although life assurance is not an obligation it is certainly worth considering if you have a family and/or outstanding financial commitments such as a mortgage or loan.
What is the risk of passing away?
Based on ONS life expectancy data (2008-10), the chances of someone passing away in the next 10 years are as follows:
| | | |
| --- | --- | --- |
| 1 in 112 | 1 in 53 | 1 in 23 |
"21% of people have suffered long term ill health during their working life so critical illness cover is a very important policy addition." Met Life 2012
Do I need cover?
Your Key Options
Choose your level of cover
It is important think about how much cover is enough, deciding whether to limit the cover to the value of the outstanding loan or opting for additional top-up to cover other expenses during such difficult times.
Choose your length of cover
This will often be set to the length of your repayment mortgage or any other outstanding loans you may have.
Including Critical Illness Cover?
If you are looking to protect yourself against the risk of ill health you have the option to include critical illness cover or alternatively you could look at income protection insurance for a more comprehensive option.
What are my options?
Compare Top 10 UK
Protection
Insurers

Takes approx. 60 seconds

I would like to say thank you to Ciaran King for his professionalism, respect and sensitivity with dealing with my income protection insurance.
Cecilia Walsh
04/12/2017
What is decreasing life insurance?
Decreasing Term Life Insurance is a fixed term policy that provides a sum assured that decreases overtime, it is designed to reduce as time goes on aligning with your outstanding debt which in most cases with this type of protection is a repayment mortgage.
For example if you were to take out a policy worth £200,000 for 25 years and had a mortgage term for the same length of time, the policy and debt would gradually decrease until the end of the policy and mortgage term where they would both equal zero.
As a plan it is most often used to protect a repayment mortgage, other uses include protecting the cost of child school fees.
If you are looking to protect an interest only mortgage or are simply looking for a level of cover which is fixed over the life of the plan then a more suitable option may well be a level term life insurance policy.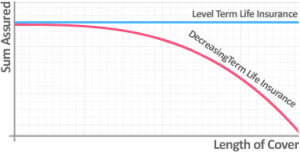 Should I consider this protection?
Do you have financial risk such as a repayment mortgage or child's school fees?
If the answer is yes then you're more than likely going to want make sure that these outstanding debts are taken care of if the worst were to happen. If you take out decreasing life cover you can ensure that the debts you have are taken care of and not left to your loved ones leaving them in financial hardship.
As the level of cover decreases over time the risk to the insurer is also declining, of all the life insurance products available decreasing term insurance is generally the cheapest form of protection. A 30 year old male taking out £100,000 of life insurance to age 65 would cost £5 per month.
How much does it cost?
The price of a decreasing life policy will vary from individual to individual depending on their circumstances.
There are a number of different factors that an insurer will take into consideration when calculating your premiums. Your health, smoker status and age are key factors that will affect how much you pay for your insurance.
For example if you are a 62 year old smoker with a medical condition such as heart disease your premiums will be a lot more expensive than a 32 year old, non-smoker who does not have any pre-existing health issues.
It is not just personal factors that will affect how much your insurance will cost but also factors concerning your policy such as the length and amount of cover. For example if you take out a policy for £100,000 over 15 years it will be cheaper than taking out a policy for £250,000 over 30 years.
Including critical illness cover?
Decreasing life policies do offer you the option to include critical illness insurance, this means that the policy would not only pay out if you were to die but also if you were to become seriously ill.
Including critical illness cover in your policy will increase your premiums because there is a much greater risk of you suffering a serious illness than there of you dying. The increase in premium will vary from insurer to insurer however given the increased risk incurred by the insurer the price increase will be significant.
A £5 life insurance policy for a 35 year old male covering £100,000 turns into a £18 per month policy when you opt to include critical illness insurance.
NB. If there is a real need for protection against ill-health we always recommend you consider an alternative product called income protection as it can often be a more cost-effective policy whilst providing a more comprehensive level of cover.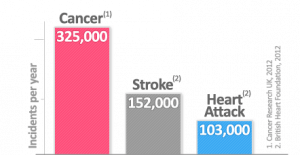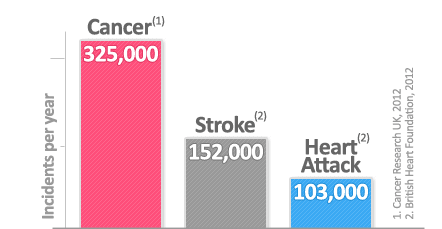 Single or joint plan?
Of all the life insurance products, decreasing life assurance is the most likely to be taken out on a joint basis.
Many individuals consider decreasing cover when they are taking out a repayment mortgage which many couples do on a joint basis.
Quick Tip – Although joint life cover can make sense for a couple taking out a joint repayment mortgage, you would find it more cost effective to consider two individual policies. With two separate policies you will end up with twice the cover for an additional 10%-15% in the monthly cost.
Writing the policy into trust?
When setting up a new life policy many fall foul at the last hurdle and forget to put their life insurance into trust.
With a joint policy this is not so important as any claim is paid directly to the surviving policyholder. However, with an individual policy writing the life insurance into trust ensures your loved ones (the nominated beneficiaries) receive the life insurance payment promptly and tax free.
If a policy is not written into trust it can end up forming part of the deceased's estate and significantly increase the time it takes for the benefit to get your loved ones and at a time when the last thing they want to be worrying about is their finances.
Do I need advice?
We are whole of market independent life insurance experts, we live and breathe protection and would be extremely surprised if you had a question or scenario we had not come up against before.
At the end of the day we are here to help people, if you are unsure of anything or just want some general guidance please do not hesitate to pick up the phone, 0208 432 7333.
Life Expectancy Calculator
Your Life Expectancy Results
Our Mission at Drewberry™
To provide expert financial advice and deliver a passionate 5-star service to help educate our clients so they can make informed decisions.
To help individuals and businesses throughout the UK to plan their financial future whilst protecting them against the financial risks they may face.
To provide quality financial advice in a transparent, friendly and professional manner.
Frequently Asked Life Insurance Questions
I'm looking at Life Insurance but i also life to partake in extreme sports, mainly surfing. Would...
I'm in the market for life insurance, after doing some research I would like to get some more advice....
I've just left my job to go freelance and need to replace the old Life Insurance policy I had...
We have just increased our mortgage, we have existing life insurance but this no longer covers the mortgage...