Why Joint Life Insurance?
Life insurance for couples pays out a cash lump sum to the surviving partner should either of you pass away.
Provides you and your partner peace of mind knowing you are both financially protected should the worst happen.
Include critical illness insurance to provide a cash lump sum should you suffer a serious illness such as cancer.
What is it for?
What does Joint Life Insurance cover?
On Death
Should you or your partner die during the life of the policy it will pay out a lump sum benefit to the surviving partner. It is important to note that joint life cover pays out on the first event only and then the policy terminates.
Terminal Illness
Now included in most policies a claim would be paid early if you are diagnosed with less than 12 months to live.
Critical Illness Cover
In addition to paying out on death you can financially protect yourself against the risk of serious illnesses such as heart attack, cancer and stroke.
What does it cover?
How does Couple's Life Cover work?
Stage 1:
You or your partner die during the life of your plan.
Stage 2:
The surviving polyholder makes a claim with the insurer including the deceased's death certificate as evidence.
Stage 3:
The insurer pays a lump sum equal to the sum assured either directly to the surviving partner.
Stage 4:
The surviving partner can use these funds however they see fit, many choosing to pay off any outstanding debts including their mortgage.
How does it work?
Do we need Joint Life Insurance?
Although couples life insurance is not compulsory it is worth considering this plan if either partner would suffer financial hardship should the other pass away.
What is the risk of passing away?
Based on ONS life expectancy data (2008-10), the chances of someone passing away in the next 10 years are as follows:
| | | |
| --- | --- | --- |
| 1 in 112 | 1 in 53 | 1 in 23 |
Research from Met Life in 2012 revealed that 21% of people have suffered long term ill health during their working life so critical illness cover is a very important policy addition.
Do I need cover?
Your Key Options
Choose your level of cover
In the event of either partner passing away you want to avoid the surviving partner suffering any financial hardship. Some couples opt to protect only their mortgage where others consider additional cover to meet other expenses.
Choose your length of cover
You will want to look to align your policy with a time when many of your financial liabilities cease, this could when your mortgage ends or the age you are likely to retire.
Level or decreasing cover?
Both options are available as with an individual life policy, what you choose will depend on what you and your partner are looking to protect.
What are my options?
Compare Top 10 UK
Protection
Insurers

Takes approx. 60 seconds

Rauri was easy to talk to. Explained everything really well. Took prompt action when requested and was in touch when he said he would be without being pushy.
Robert Eldridge
07/06/2018
What is joint life insurance?
Joint life cover is designed to cover two individuals under a single policy, should either member pass away during the policy term it will pay out a tax free lump sum to the surviving member.
It is important to note that a joint plan will only pay out on the first event and then terminate, as the policy terminates when the claim is paid the the surviving partner will be left without any life insurance of their own.
The most common use of a joint life assurance policy is to cover a joint mortgage, should either party pass away the other knows the outstanding mortgage balance will be met by the payment from a claim.
As with individual policies you have many of the factors to consider when structuring a joint plan including whether it is a level or decreasing policy and whether you want to include critical illness cover.
Single or joint cover?
There are a few scenarios where individuals tend to opt for a joint policy with the most common being to cover a joint mortgage.
If there are two individuals named on the mortgage (both in full time employment) contributing to the monthly repayments it is wise to protect both parties. Where there is only a single loan we only need the insurance to pay out in an either or situation which is why joint life insurance is popular in this situation.
Although a joint policy keeps the paperwork simple it can be more cost-effective to opt for two individual policies.
Where a couple taking out a joint policy may have covered £100,000 if they were to opt for two individual policies each covering £100,000 they would have twice the cover (2 x £100,000) and the additional cost over and above a single joint policy is often only 10%-15%.
Level or decreasing plan?
Decreasing joint life insurance is most often used to protect a couple who are both responsible for their repayment mortgage.
With a repayment mortgage you are repaying the principle loan and so over time your outstanding liability declines to zero until you own your home. A decreasing life insurance plan will mirror your repayment mortgage with the level of cover declining over time in line with your outstanding mortgage balance.
Joint level life insurance is most commonly used to protect an interest only mortgage. Where your monthly payments towards an interest only mortgage do not repay the principle, the outstanding loan will remain fixed over the entire life of the mortgage.
To align with this level life cover has a fixed sum assured which will pay the same sum assured should a claim arise at any point during the term of the policy thus ensuring the surviving partner can pay off the interest only mortgage should the worst happen.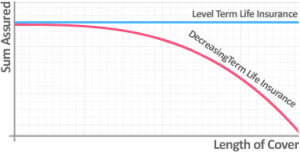 Can I include critical illness insurance?
As with an individual policy you can include critical illness cover in your joint arrangement to financially protect yourselves against the risk of serious illness.
Naturally the risk of suffering a serious illness such as cancer, heart attack or stroke is considerably higher than passing away, as a result the premiums will be significantly higher to take account of this risk.
Many couples opt to include critical illness for peace of mind, knowing if either party were to suffer a serious illness there would be adequate funds to pay off the mortgage or make lifestyle alterations to accommodate the change in circumstances.
When looking to protect yourself and your partner against ill health it is worth considering an alternative in income protection insurance. Income protection will pay a monthly income instead of a single lump sum and is not limited to paying out based on a set list of conditions providing a more comprehensive level of sickness protection.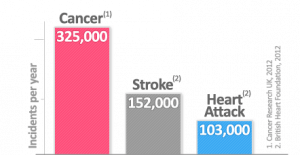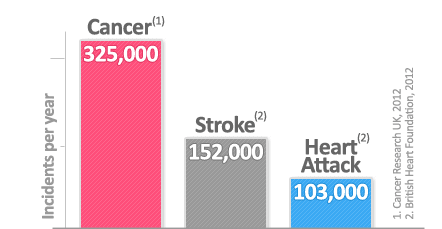 Do I need to write the policy into trust?
A joint life policy is one of the few scenarios where it is not necessary to place the plan in trust.
Should a claim arise any benefit is automatically paid to the surviving policyholder to use as they see fit. If for any reason you would not want the surviving policyholder to receive the claim payment then you will need to look at setting the policy in trust.
Don't worry, using a trust does not have to be complicated. We have a team of insurance experts on hand to deal with the technical jargon and explain everything in plain English.
Do I need advice?
We are independent insurance experts whose aim is simply to provide you with the necessary information to make an informed decision.
If you can't find the answer you are looking for here, please do not hesitate to take advantage of the considerable knowledge base our in-house experts have. Simply contact us on 0208 432 7333.
Life Expectancy Calculator
Your Life Expectancy Results
Our Mission at Drewberry™
To provide expert financial advice and deliver a passionate 5-star service to help educate our clients so they can make informed decisions.
To help individuals and businesses throughout the UK to plan their financial future whilst protecting them against the financial risks they may face.
To provide quality financial advice in a transparent, friendly and professional manner.
Frequently Asked Life Insurance Questions
I've recently been declined Life Insurance due to a previous medical issue, it's something...
I've just left my job to go freelance and need to replace the old Life Insurance policy I had...
I was planning on taking out life insurance for my kids and came across Family Income Benefit, I wanted...
I'm getting quotes for life insurance and don't know if skiing is included in the cover and...