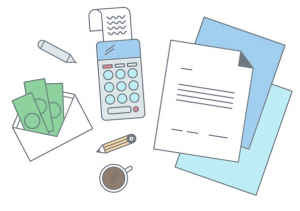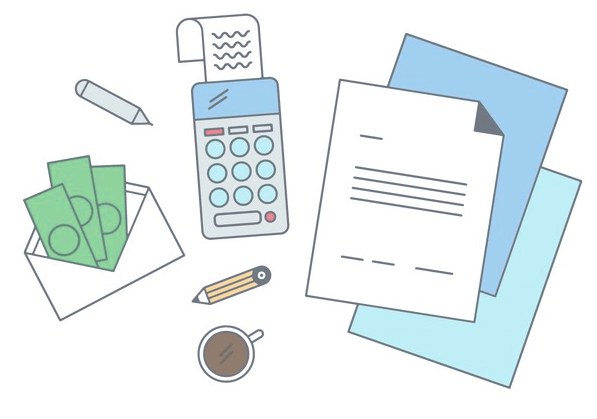 Life Insurance Advice
Everything you need to know when buying cover
Life Insurance pays out on the policyholder's death, providing loved ones with a cash lump sum so they can cover any financial obligations that follow the policyholder passing away. There are a few different types cover you could consider, which is where getting Life Insurance advice is so valuable.
Term Life Insurance – either decreasing (so the benefit falls over time) or level (so the benefit stays fixed), this will cover you financially against the risk of death for a set period of time.
Mortgage Life Insurance – similar to Term Life Insurance, but with the cover specifically aligned both in terms of level and length of cover with an outstanding mortgage debt
Family Income Benefit – instead of receiving a lump sum, your family receives a regular income for the remaining term of the policy should you pass away whilst the policy is in force
Whole of Life Insurance – Life Insurance that lasts for your whole life providing you continue paying the premiums; it's typically used for inheritance tax purposes or funeral expenses.
Compare Top 10 UK
Protection
Insurers

Takes approx. 60 seconds
This Guide

Written by:
Michael Englefield
Content Manager at Drewberry
⏰  10 min read
Who Needs Life Insurance?
If you're wondering whether you need Life Insurance, put yourself or your family in some of the common scenarios below and ask yourself how you'd cope if it happened to you.
According to our Wealth & Protection Survey 2017, 39% of Brits had less than £1,000 in savings. If the breadwinner in the household passed away, would the household have enough savings and ongoing income to cope?
The same survey also found a quarter of UK workers have an outstanding mortgage of at least £100,000 – could you keep up with repayments if the main earner in your household passed away?
Would clearing your mortgage be enough if you passed away or would your family need extra cash on top to help them cope with your loss?
With the average funeral costing nearly £4,000(1) would there be funds available to cover this? Or would your loved ones have to pay for it out of their own pocket?
(1) – SunLife Cost of Dying report 2016
Need Help? Start Live Chat with our Experts

Neil
Pensions Advice

Robert
Income Protection
Advice on the Life Insurance You Need
There are three main types of Life Insurance:
Term Life Insurance – covers you for a set term and can be decreasing (falling over time) or level (stays fixed over time). Mortgage Life Insurance is a subset of Term Insurance working in exactly the same manner but is aligned specifically to a mortgage.
Family Income Benefit – rather than paying one lump sum, Family Income Benefit will pay your family an income until a set date, often set at the date your youngest child will no longer be dependent.
Whole of Life Insurance – in contrast, Whole of Life Cover offers you protection for your whole life, up until death, with a guaranteed payout providing you continue paying the premiums.
With the three different types of cover available, it can be really valuable to get advice to make sure you're getting the appropriate cover for your circumstances.
Term Life Insurance Advice
Term Life Insurance is split into two products: Decreasing Term Insurance and Level Term Insurance.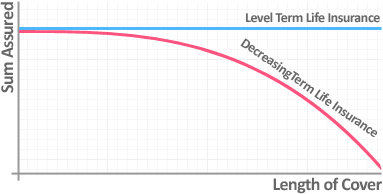 Both will pay out a lump sum to your loved ones should you pass away during the policy term.
However, the amount your beneficiaries will receive from Level Life Insurance compared to Decreasing Life Insurance will differ depending on the point during the term at which you pass away.
With decreasing Life Insurance, the benefit falls over time reaching zero by the end of the term.
Level Life Insurance stays fixed over the life of the policy, so you'll receive exactly the same if you die in the first year of the policy as if you were to due in the last year.
With decreasing cover the risk to the insurer over the term of the policy is less than a level term policy which means the monthly premiums tend to be cheaper.
Mortgage Life Insurance Advice
Mortgage Life Protection is a type of Term Insurance that aligns specifically to a mortgage. The term of the policy is set to the term of your mortgage and the benefit is set to your outstanding mortgage amount.

Decreasing Mortgage Protection Insurance is typically used for a straightforward repayment mortgage, because the benefit falls over time along with your outstanding mortgage balance.
Level Mortgage Protection Insurance is used more for interest-only mortgages, where the capital amount owed stays the same over time. It may also be used where you want to leave some cash over and above the outstanding mortgage.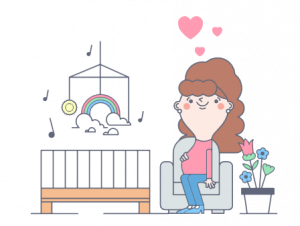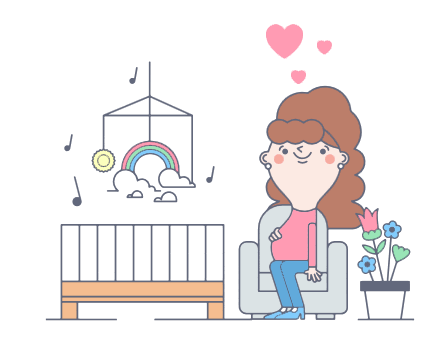 Do I Need Family Income Benefit or Life Insurance?
Family Income Benefit works differently from Life Insurance in that you're not insuring a lump sum. Instead, your family will receive a regular income in the event of your death. As a result, it's often used where you're certain how much your loved ones will need each year.
A lump sum suits many people just fine, especially if they're not entirely sure how much their family will need each year.
However, a lump sum can be quickly eaten away over the years if not managed properly, or in the event of a large, unexpected expense.
This is particularly true if you're planning to leave a Life Insurance lump sum to older children, who might use any financial freedom they have to make unwise spending decisions.
As it provides for a continuation of income over many years, the two main uses of family income benefit are:
Cover the cost of future school fees
Cover a stay-at-home parent who doesn't earn an income themselves but provides a service to the family home.

Don't forget, even though a stay-at-home parent may not be making an income they are providing free labour that would otherwise have to be paid for if the surviving partner is to remain at work.
A live-in nanny costs over £20,000 per year, plus providing for sick pay, pensions etc. Meanwhile, a part-time nanny working 25 hours per week would set you back over £10,000 per year(2). Could you afford to meet such expenses?
Sam Barr-Worsford
Independent Protection Expert at Drewberry
(2) – https://www.moneyadviceservice.org.uk/en/articles/childcare-costs
Losing a stay at home parent could mean the surviving partner and breadwinner has to either give up their job or dedicate most of their wages to employing people to perform all of the roles in the home previously performed by the deceased.
In this instance, Family Income Benefit protecting the life of a stay-at-home parent would allow for a steady stream of income to pay for childcare, housekeeping and all manner of other expenses. It can be set to end after the youngest child is no longer dependent.
Not Sure How Much Life Insurance You Need? Get Advice Now…
Plucking a figure out of thin air when it comes to choosing the amount of Life Insurance you require can be a daunting task. Where you've got a specific liability to cover, such as a mortgage, it's slightly easier. However, you still might want to leave something over and above the mortgage debt, so how do you know how much to leave?

At Drewberry, we've helped many clients arrange Life Insurance policies with benefits ranging from the tens of thousands to many millions.
We're well-placed to help anyone and provide Life Insurance advice no matter the benefit you require, large or small. The team at Drewberry is here to offer our expertise and Life Insurance tips at no cost to you.
Victoria Slade
Independent Protection Expert at Drewberry
Whole of Life Insurance Advice
Whereas Term Insurance covers you for a set term and then ends, Whole of Life Insurance covers you for your whole life, for however long that might be, providing you continue to pay the premiums until your death.

Whole of Life Insurance is sometimes known as Whole of Life Assurance because it's protecting against an event that's assured to happen (i.e. the policyholder's eventual death).
The sums involved with Whole of Life Insurance tend to be much smaller than for Term Insurance because it's expensive to protect against an event the insurer will definitely have to pay out for.
The average value of a Whole of Life claim paid in 2016 was around £4,748 compared to £75,062 for Term Insurance.

Whole of Life Insurance is primarily used for liabilities that will always be around and won't ever diminish.
While Term Insurance would be sufficient to cover children's school fees or a mortgage, as these liabilities aren't ongoing indefinitely, expenses such as funeral costs or inheritance tax bills will persist regardless. Here, Whole of Life Cover will likely be better suited.
Jonathan Cooper
Senior Paraplanner at Drewberry
Gifts inter vivos and Whole of Life Insurance
Gifts inter vivos are simply gifts you make from your estate during your lifetime. Any significant gift you make above your permitted annual IHT gift allowance will be regarded only as a potentially exempt transfer, so IHT may still be due on the gifts if you die within seven years.
IHT on gifts inter vivos will have to be paid by the recipient of the gift rather than out of the estate.
That means the gift you make to your loved ones could land them with a big inheritance tax bill if you die within seven years, when the asset(s) you gave them may already be gone.
Whole of Life Assurance for inheritance tax
Whole of Life Insurance can also be used to pay an inheritance tax bill on your entire estate. Upon death, HMRC demands that your loved ones pay your inheritance tax bill before getting access to the estate, even if access to the estate is necessary to pay the inheritance tax bill.
You may be able to get permission from HMRC to make a transfer from the deceased's bank accounts where sufficient liquid funds exist within the estate to pay the bill, but many people don't have such funds, especially if the bulk of their estate is made up of a home.

In this case, the beneficiaries might have to pay out of their own pocket to cover the bill to release the estate and recoup the money afterwards. Alternatively, they may have to get a loan against the value of the estate, known as an executors loan.
To save your loved ones from this hassle and expense, a Whole of Life Insurance policy written into trust for your beneficiaries will fall outside your estate and can be used as ready cash to pay the inheritance tax bill.

Inheritance tax can be a tricky subject even before you add in attempting to mitigate your liability with Whole of Life cover.
That's why we'd always recommend speaking with an expert and getting Life Insurance advice and having an adviser do some inheritance tax planning. The team at Drewberry is here to help – just drop us a call on 02084327333.
Neil Adams
Pensions & Investments Expert at Drewberry
Over 50s Life Cover and Funeral Plans
Another common use for Whole of Life Cover is funeral plans. With the cost of a basic funeral standing at £3,675 in 2016 according to Royal London, excluding any extras such as limousine hire and the memorial marker, a funeral can be our last major expense.
To protect our loved ones from having to meet funeral costs or having them deducted from their inheritance, a Whole of Life Insurance policy can be used to leave a sum to cover your funeral. Over 50s Life Insurance plans are Whole of Life policies which are often used for this purpose. They can also be used to cover small debts.
Top Life Insurance Tips
You have a number of options to tailor your Life Insurance to make sure it fits your exact needs and circumstances. This is where our expert advisers can come in to offer you Life Insurance tips and advice to ensure you obtain the most suitable cover.
1.
Joint or Single Life Insurance?
If you're married or in a civil partnership, or have joint interests, you may be considering Joint Life Insurance. This is Life Insurance covering two people under one policy and may seem especially attractive for those wanting to life cover for a joint mortgage.
This is usually cheaper than having two single Life Insurance policies, but for a very good reason. That's because Joint Life Insurance only pays out once, usually on a joint life first death basis, so will only pay out on one partner's death.
This would leave the surviving partner uninsured, at a point in their life where they may be older and suffering/having suffered from any number of medical conditions, making getting Life Insurance from scratch far more expensive.

The alternative is to buy two Single Life Insurance policies, one for each half of the couple. This works out slightly more expensive at the start but usually only by a few pounds, and the benefit of doing so is that you'll have secured two payouts, one for each person.
Rauri Taylor
Independent Protection Expert at Drewberry
Should I add Critical Illness Cover to Life Insurance?
One of the biggest considerations when it comes to Life Insurance is whether or not to add Critical Illness Cover.

Critical Illness Cover will pay out if you develop a critical illness as well as on death. The critical illness must be one specified by the insurer; the most common illnesses covered are cancer, heart attacks and strokes.
In the unfortunate event this happens to you, you'll receive the same lump sum as if you had passed away.
Adding Critical Illness Insurance to your life cover provides insurance against the risk of serious illness and disability as well as death. Many people prefer to have this additional backup as a critical illness can be no less devastating for the family's finances than death.

While Critical Illness Cover can add valuable protection to your Life Insurance, it may not necessarily be the answer if you're concerned about long-term incapacity. Critical Illness Cover pays out a lump sum, which could quickly be used up if you're off work long-term.
It may therefore make more sense to just have straightforward Life Insurance and a comprehensive Income Protection policy running alongside it to provide you with a continuation of income if you can't do your job for any medical reason, potentially for as long as you need it.
Ntokozo Moyo
Independent Protection Expert at Drewberry
3.
Indexing Life Insurance
You have the option to index-link your Life Insurance to ensure that the benefit retains pace with inflation over time.
This is not so much an issue with Decreasing Term Life Insurance, as the benefit for this is supposed to fall over time and is therefore less at the mercy of inflation.
However, where the benefit is fixed – such as for Level Term Insurance, Family Income Benefit and Whole of Life Cover – the amount you're insured for could be eroded by inflation and therefore be worth less in real terms when your family needs to claim years down the line.

With Life Insurance being such a long-term benefit – policies often span decades – it's important to consider the impact of inflation and whether your family could cope if the benefit you secure today had a lower purchasing power in the future.
Index-linking the benefit prevents this erosion, as your benefit will rise with inflation each year. Your premiums will rise along with the rate of inflation to take into account your increased benefit, but the reality is you're inflation-proofing your loved ones' future.
Jake Mills
Independent Protection Expert at Drewberry

Honest and friendly. Gave me the feeling that they had my best interests at heart. I went elsewhere for alternative quotes but Drewberry came out on top all round.
Paul Tipler
21/02/2019
Life Insurance Advice: Setting Up a Policy
Everyone is medically underwritten for Life Insurance. This means that, on application, you'll be asked a series of medical questions to determine your health and the level of risk you present to the insurer, which will ultimately be translated into the cost of your premium.
Sometimes, insurers require further medical evidence than just your disclosures on the application, which may be as a result of:
Your age
The benefit you're applying for
Your state of health
Your BMI
Family history of illness
Smoker status
Any combination of the above.
Life insurers have set thresholds, or 'triggers', above which further medical evidence will be required. Medical evidence allows an insurer to better work out what the premium should be and assess the risk your pose accordingly.
Unfortunately, there's no easy answer to whether the insurer will need further medical evidence.
This is because a younger person can apply for a higher benefit without the insurer needing medical evidence, whereas an older person applying for the same benefit could need a medical.

The younger person represents less of a risk to the insurer and the insurer is therefore willing to cover their life for a higher benefit without medical evidence than they would be willing to insure a higher-risk, older person.
Life insurance and existing health conditions
The same is true for your state of health. Two people of the same age could apply for the same Life Insurance benefit but one might need medical evidence because they've 'triggered' the insurer's criteria because of their medical history.
Again, the person with a health condition presents a higher risk to the insurer and the insurer may therefore require medical evidence to insure them even as they insure the healthy person for the same benefit based on the application alone.

Each insurer has different thresholds that will trigger the need for medical evidence. Some insurers might have higher thresholds (i.e. a more 'lenient' approach) than others.
The team at Drewberry know insurers' underwriting limits inside out, so we can try and find you an insurer that will cover you specifically, potentially based on your application alone.
Rob Harvey
Independent Protection Expert at Drewberry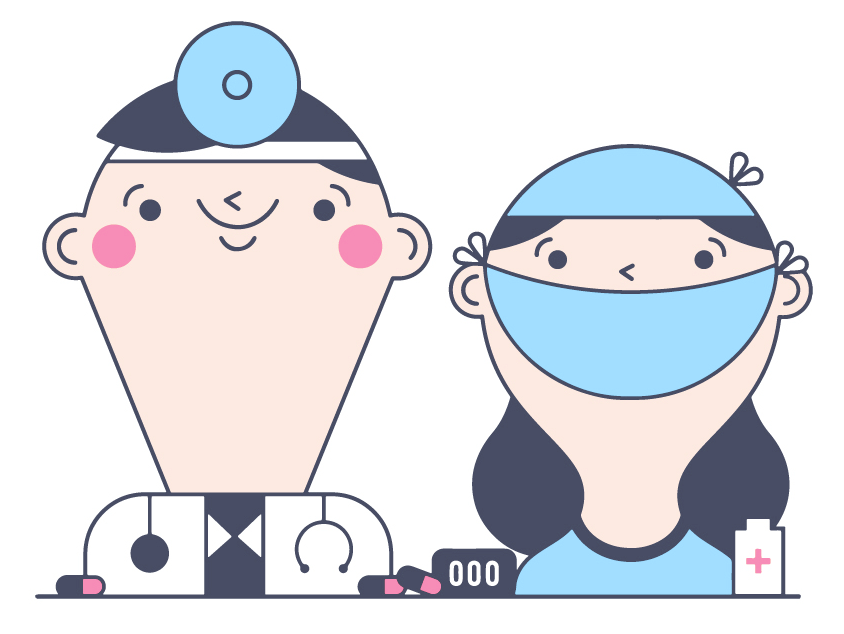 Will I Need a Medical for Life Insurance?
In some cases, you will need a medical for Life Insurance, yes. This will depend on how much you're looking to insure yourself for, how old you are and your existing state of health.

A full Life Insurance medical could involve a medical assessment by a doctor, which will be entirely paid for by the insurance company and done at your convenience.
They're often held in private clinics around the country – some clients get to go to prestigious Harley Street doctors for their medicals. This will involve a full health MOT, including blood tests.
A less invasive medical may be a nurse's screening, where a qualified nurse visits your home or place of work and does basic tests, such as your height, weight and blood pressure.
Sometimes, it may necessary for an insurer to write to your GP to collect your medical history. This could be especially likely if you've disclosed a pre-existing medical condition.
GP reports could be required on top of medical screenings – it all depends on you as an individual and what you disclose on your application.
Life Insurance With No Medical
It is possible to get Life Insurance with no medical screening, especially Whole of Life/Over 50s Life Insurance.

Whole of Life Insurance doesn't require medical screenings in most instances because there's an understanding that they're priced to cover people of a certain age and that they're likely to have certain medical conditions. The premiums reflect this.
You may be able to get Life Insurance without a medical screening beyond the questions asked at application if you don't trigger any of the insurer's requirements for further medical evidence, such as a high benefit, older age, medical history, a combination of these or any other conditions that prompt the need for a medical.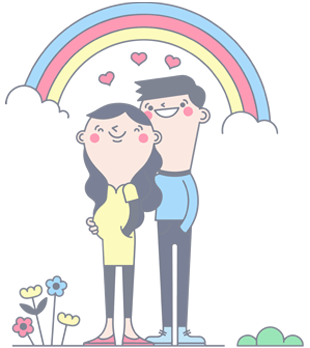 How Much Does Life Insurance Cost?
The cost of Life Insurance depends largely on one major factor: how much you're going to insure yourself for. This will be different for everyone and will depend on your needs, the type of policy you're taking out and any liabilities you're looking to cover.
We can help you decide how much Life Insurance you need – just give one of our experts a call on 01273646484 for advice on calculating your Life Insurance benefit.
Other factors that will influence the cost of Life Insurance are less in your control. While you can opt for a lower benefit to reduce the cost of cover, your Life Insurance premiums are based on factors that are far harder, if not impossible, to change. This include:
Your age – the older you are at the start of the policy, and when you want the policy to end, will increase the cost of Life Insurance because the older you are the higher the risk you represent (although this is much less of an issue with Whole of Life Cover)
Your state of health – your current state of health will have a big impact on the cost of cover, particularly if you're overweight or have medical conditions, such as high blood pressure or diabetes
Your medical history – Life Insurance is less concerned with minor medical conditions you've suffered from in the past, such as back pain, but if you've suffered from a serious medical condition such as cancer or diabetes disease, it will increase the cost of cover
Your smoking status – Life Insurance for smokers is possible, but it costs more due to the increased risk you present to the insurer.
What is your risk of passing away?
Based on the latest government life expectancy data, Drewberry's calculator below works out the risk of death of the average person over a set period. Below is the risk of death in the next 25 years for a male of three different ages:
| | | |
| --- | --- | --- |
| 1 in 26 | 1 in 12 | 1 in 4 |

As you can see, the risk of you passing away during a policy's term increases significantly as you age, which is why Life Insurance costs more the older you are when you take it out.
It's why it makes sense to buy this cover when you are young as you can lock in cheaper premiums and it is easier to get cover when you are fit and healthy with no medical existing medical conditions.
Egle Blusiute
Independent Protection Expert at Drewberry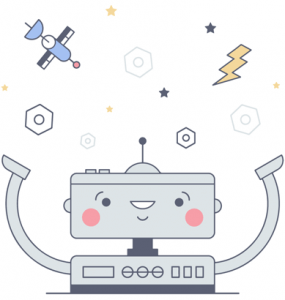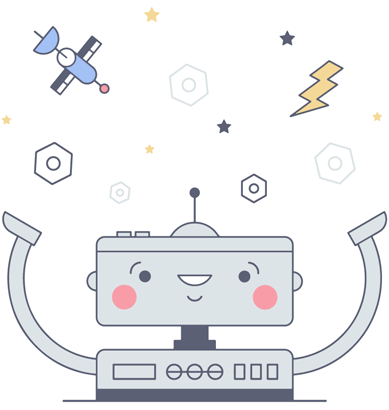 Advice Comparing Life Insurance Quotes
You could go to each insurer individually and try to find the best deal from multiple providers separately, which would take a lot of time. The simplest way to compare Life Insurance quotes from the UK's leading insurance providers is to use our quote engine which does all this for you..
As Drewberry is independent and has access to the entire UK market, you may find that a lot of Life Insurance quotes come up when you use our calculator. When there are so many options it can be tricky to know which one will apply to your needs. Why not ask one of our experts for their top Life Insurance tips? We don't charge you for our advice.

When getting Life Insurance quotes online, it is important to note that an assumption is made that you are in good health.
If that's not the case, it makes sense to get Life Insurance advice first. An adviser will be able to give you tips you on the best course of action and find the best price for you given your current state of health. If you are in poor health and looking for Life Insurance, the team at Drewberry is here to help – just pop us a call on 01273646484.
Samantha Haffenden-Angear
Independent Protection Expert at Drewberry
Life Expectancy Calculator
Your Life Expectancy Results
Inheritance Tax and Trusts
When you set up Life Insurance, it's best to plan carefully to ensure your loved ones will have exactly the right amount they need. HMRC taking an inheritance tax chunk out of this carefully-calculated amount could therefore leave your loved ones in considerable financial hardship.
It's important to realise that Life Insurance paid to the deceased, e.g. a bank account belonging to them, will be valued as part of their estate. In this case, you will have to pay inheritance tax on Life Insurance.
Many people don't realise this and could therefore be in for a shock when they receive a demand for a 40% slice of a Life Insurance benefit from the taxman!
Beware of IHT issues with family income benefit
Although Family Income Benefit provides an annual income, for inheritance tax purposes HMRC will calculate the full amount of the benefit you're receiving by multiplying your annual FIB payment by the number of years you'll be receiving it.
Even a fairly modest benefit of £17,000 per annum over 20 years adds up to £340,000, well above the single person's IHT threshold of £325,000.
Your family may therefore have to find cash upfront to pay an inheritance tax bill on an income they won't receive for many years.
Unmarried couples beware potential IHT issues
If you're not married, the tax implications are especially punitive. Married couples and civil partners enjoy an unlimited IHT exemption, so as much as desired can pass between spouses at the first spouse's death. However, with a rising number of unmarried couples living together and named in each other's Life Insurance, it's rapidly becoming the case that this marriage exemption is available to fewer and fewer people.
Avoid IHT with Life Insurance Trusts
To avoid your benefit being paid into your estate, you have the option to write your Life Insurance into trust.
Putting your Life Insurance into trust means it's outside your estate and so won't be counted towards your inheritance tax limit, which is useful for tax planning and making sure a chunk of your Life Insurance benefit doesn't get eaten up by the taxman. That way, your family gets everything you intended them to receive.

Setting up a Life Insurance trust is free and Drewberry's advisers provide help doing so as part of our service.
All we need is a quick signature on a few forms, so why not ask for expert advice on Life Insurance trusts today?
Oliver Wigdor
Independent Protection Expert at Drewberry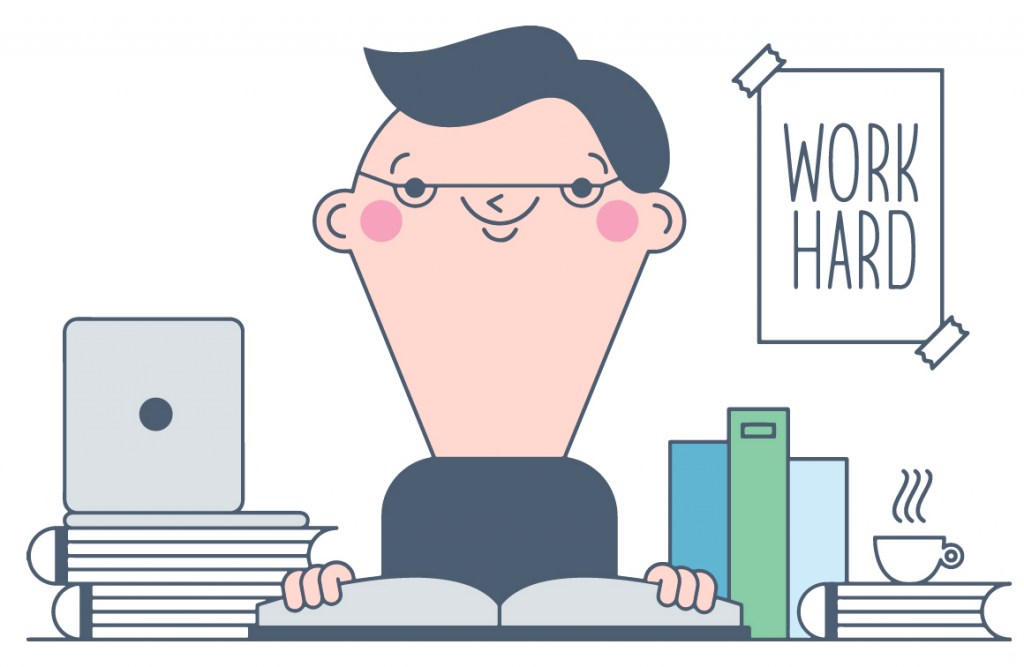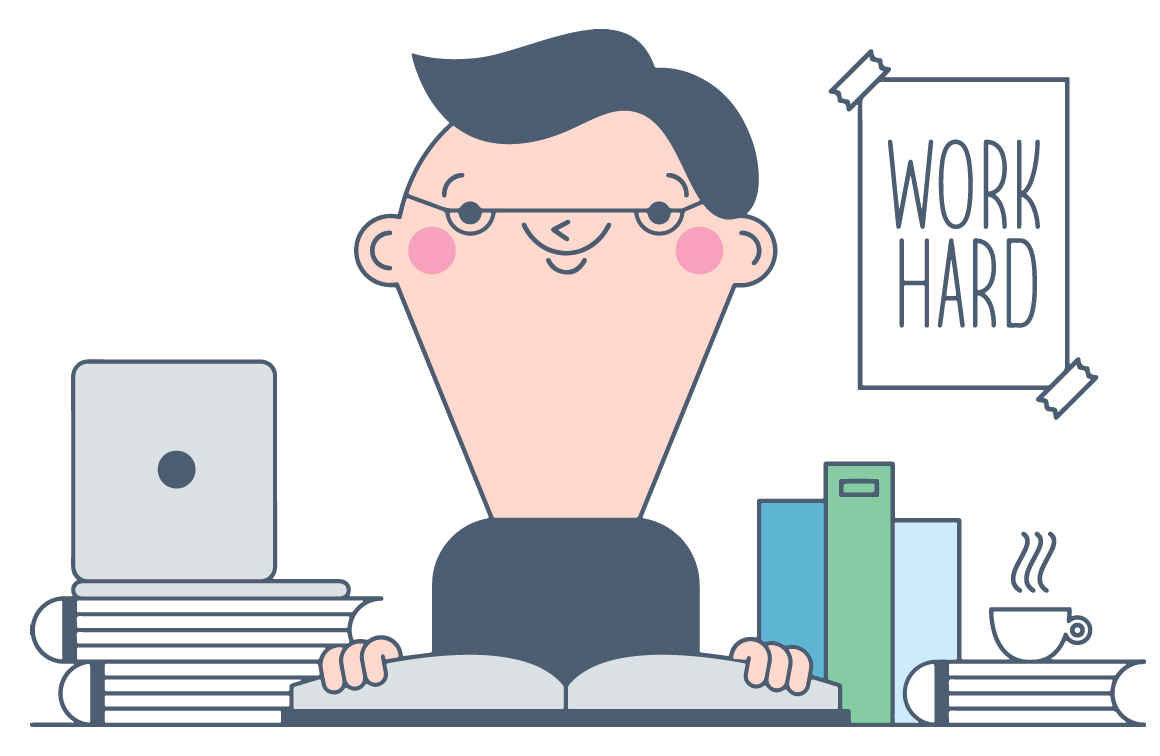 Get Expert Life Insurance Advice
Not only are our advisers all highly qualified to offer you Life Insurance advice, but arranging these policies day in, day out we know all the tips and tricks which we are keen to pass on.
Taking advantage of this knowledge and expertise comes at no cost to you, so why not give us a call today? One of our advisers will be happy to help if you drop us a line on 01273646484.
Tom Conner
Director at Drewberry
Compare Top 10 UK
Protection
Insurers

Takes approx. 60 seconds
Frequently Asked Life Insurance Questions
We have just had our first child and need to get some Life Insurance. I cycle to work and was wondering...
I'm looking to take out Life Insurance and have read about an additional benefit called Terminal...
As my husband and I are about to buy our first home we need to look at Life Insurance. I've got...
I've just left my job to go freelance and need to replace the old Life Insurance policy I had...