Why Business Protection Insurance?
Keyman, shareholder and business loan insurance should all be considered to protect your company's future.
Business protection products ensure business continuity should a key individual suffer a serious illness or die.
39% of Directors expect to go under within 18 months of the death or serious illness of a key person. L&G 2011
What is it for?
What does Business Protection cover?
Business Protection plans usually consist of Life Insurance and Critical Illness Cover protection against –
Death
Should the person covered die or suffer a terminal illness the plan would payout a lump-sum to either the business or the business owners.
Critical Illness
This option also enables the plan to payout if the person covered were to suffer any one of around 35 to 45 critical illness conditions, depending on the insurer.
It is very important to note that these plans need to be set-up differently to personal life insurance as the policy ownership structure and relevant trusts are different.
What does it cover?
How does Business Insurance work?
Stage 1:
The individual the policy is covering either dies or suffers a critical illness which is covered by policy terms.
Stage 2:
A valid claim is made with the insurer.
Stage 3:
The insurer pays out the sum assured as per the conditions of the policy and relevant trusts.
Stage 4:
A shareholder protection benefit payment is usually used to buy the deceased's share of the business where funds from a key person claim are used however the business see fits.
How does it work?
Do we need Business Protection Insurance?
It is important to consider what would happen if a key person or shareholder died or suffered a critical illness? Would funds be available to ensure business continuity?
What is the risk of death?
Based on ONS life expectancy data (2008-10), the chances of someone passing away within the next 10 years are as follows:
| | | |
| --- | --- | --- |
| 1 in 112 | 1 in 53 | 1 in 23 |
Research from Met Life in 2012 revealed that 21% of people have suffered long term ill health during their working life so critical illness cover is a very important policy addition.
Do I need cover?
Our Delivery
Being Independent Insurance Advisers we pride ourselves on being the experts, knowing every insurance product we offer inside out and back to front. Here's how we work –
The Fact Find:
We will talk you through the options available and capture vital information about the person(s) to be covered.
The Research:
We go out to all leading business protection insurers to gain the most competitive quotes.
The Report:
We email you a short report with our product and insurer recommendations for the various options we've discussed. When you are happy to go ahead in many cases we are able to complete the application for you over the phone.
How can we help?
Compare Top 10 UK Insurers
Providing Whole of Market Advice

Excellent service from start to finish. Both Jack & Jake were both helpful and polite through the process. I would recommend Drewberry to family and friends.
Trevor Massey
22/01/2019
What is business protection insurance?
Business protection is designed to help businesses continue to trade should a key person or business owner die or become seriously ill.
The fact is many small and medium-sized businesses rely on certain key people. Without these key persons your business could suffer serious financial loss, from losing a sales manager whose relationships ensure the new business goals remain on target to the designer responsible for new products.
Should something happen to one of these key individuals the benefit payment from the business protection plan could help ensure key individuals are replaced, corporate debt is protected and the deceased business owners estate can be purchased.
Types of business protection
Business protection takes three key forms; protecting profits, corporate debt and ensuring the shares of a deceased business owner can be purchased.
Keyman Insurance
Also known as profit protection is essentially a life insurance or life insurance with critical illness policy written on the life of the individual but owned by the business. Any premiums due are paid by the business and thus should a claim arise the benefit payment is made to the employer.
Shareholder Protection
Designed to pay a benefit in the event of the shareholders death. The benefit payment provides the remaining shareholder(s) with a means of buying the deceased owner's share of the business from his or her estate.
Loan Protection
designed to help the business pay any outstanding borrowings such as a loan or commercial mortgage should the individuals covered die (Life Insurance Only) or a specifice critical illness (Life Insurance and Critical Illness Cover).
Do we need business protection
The success of almost all small and medium sized businesses are dependant upon a few key persons and the loss of such a person can often mean the beginning of the end for the business. These key people can include the business owners, sales directors or any other individual with specialist skills or knowledge.
When many business owners think about protecting their company the first thing that comes to mind is the premises, vehicles and stock but is this where business protection begins and ends, what about your most valuable asset?
In a recent study by Legal & General over 70% of those surveyed had four key people or less within the business showing how vulnerable SMEs are and how vital it is to protect those individuals in the event of death or serious illness.
Whatever the individuals role, there loss can reach beyond just the cost of recruiting and training a replacement including.
Loss of profits
Loss of important personal or business contacts.
Loss of confidence from suppliers and customers.
Loss of detailed knowledge of the businesses processes and systems.
Having to repay a loan the key person has made to the business.
Difficulties in meeting existing loan repayments.
The research
A 2011 study by Legal & General carried out with the Institute of Directors took place to understand the security of assets, shares and cash flow of businesses with some of the highlights detailed below.
95% of businesses had at least one key individual.
43% of businesses had unprotected corporate debt.
38% of business owners expected their business to fold within 18 months of the death or critical illness of a key person.
33% of businesses had no form of share protection.
58% of businesses had no formal agreement to establish what would happen in the event of the death or critical illness of a business owner.
70% of businesses had not reviewed their company agreements in the last year.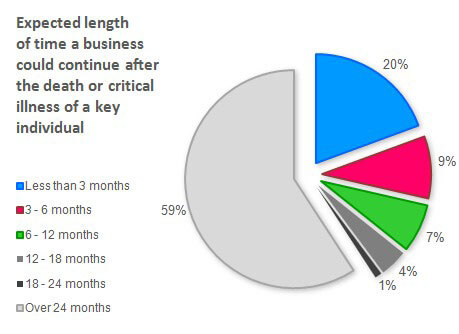 Keyman Insurance
Key person insurance is fundamentally a very simple protection product. The policy is designed to allow a business to insure it's key people against the risk of them being unable to work due to suffering a critical illness or worse case in the event of death.
The benefit payment to the business in the case of such an event would provide the necessary cash injection to make sure it survives.
For more information – https://www.drewberryinsurance.co.uk/employee-benefits/keyman-insurance
Shareholder Protection
If one of the owners of a limited company becomes critically ill or dies and the remaining owners do not have the funds or the option available to buy their shares, there are a multitude of issues that could arise.
In such an event a shareholder protection policy can provide a sum of money to the remaining business owners sufficient to help them purchase the individuals share of the business.
For more information – https://www.drewberryinsurance.co.uk/employee-benefits/shareholder-protection
Business Loan Protection
Business loan protection is designed to help a business pay any outstanding borrowings such as a loan or commercial mortgage should the person covered die or become diagnosed with a specified critical illness. Loan Protection is either set-up as a life insurance only or a life insurance and critical illness policy paid for by the businesss.
The policy itself is written on the key individual so in the event of death or a critical illness the benefit payment can be used for any outstanding debt or loan.
Loan protection should be set-up to reflect the terms of the borrowing and can be structured as either a level term or decreasing term plan.
More information
This guide will give you a brief overview of the type of decisions you will need to make when considering business protection insurance. Should you require further information, advice or guidance please do not hesitate to call us on 0208 432 733 or email help@drewberry.co.uk.
Our Mission at Drewberry™
To provide expert financial advice and deliver a passionate 5-star service to help educate our clients so they can make informed decisions.
To help individuals and businesses throughout the UK to plan their financial future whilst protecting them against the financial risks they may face.
To provide quality financial advice in a transparent, friendly and professional manner.
Frequently Asked Employee Benefits Questions
We are an established partnership and are wondering whether given our set-up we can take out key person...
I want to ensure my family are able to realise the value of my share in our business should the worst...
I am a company director and I'm looking at benefits of Group Life Insurance for myself and my employees...
I am researching Shareholder Protection Insurance and wanted to know the purpose of a cross-option agreement...
Compare Top 10 UK Business Insurers