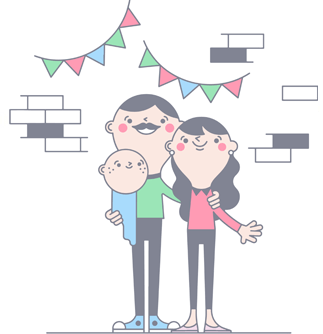 How Does Decreasing Term Life Insurance Work?
Decreasing Term Life Insurance is one of the different types of life insurance policy you can buy. It will pay out a lump sum on death to ensure your loved ones are financially secure.
Term insurance means that the life cover lasts for a set term that you choose at the outset. Most people align the term of their life insurance with their mortgage to ensure cash will be available to repay their mortgage if they died before clearing the debt.
Decreasing term insurance refers to the fact that the benefit – i.e. the amount paid out on death – falls each year to zero by the end of the policy term. For this reason it's generally used as repayment mortgage Life Insurance, as the benefit can be set to fall in line with the outstanding mortgage balance.
Compare Top 10 UK
Protection
Insurers

Takes approx. 60 seconds
What Is Decreasing Mortgage Life Insurance?
Although there are many reasons why you'd take out this type of life cover, the way in which Decreasing Term Life Insurance works makes it particularly suitable for protecting a capital repayment mortgage.
With a straightforward repayment mortgage, the amount of debt you have outstanding on your house falls over time until you own it outright once your mortgage is finished.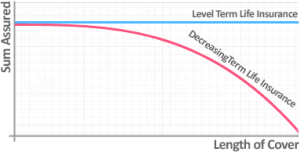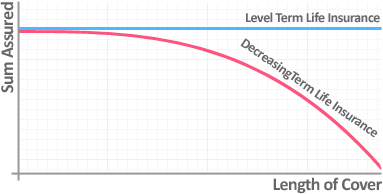 How Does Decreasing Life Assurance Decline Over Time?
You set up a Reducing Term Insurance policy so that the amount you'll receive in a payout falls each year in line with your mortgage decreasing, ensuring there's always just enough cover to pay off the loan if you die during the term of the policy.
Much like the capital outstanding on a mortgage, the amount of cover declines provided by a Decreasing Mortgage Life Assurance policy falls very slowly in the early years and declines much faster in the latter years.

Make sure you choose a policy where your mortgage interest rate doesn't rise above the maximum allowable in the policy.
When you're getting Decreasing Term Life Insurance quotes, most providers will automatically provide an interest rate for you. Reputable insurers usually assume a rate of around 8%, ensuring your mortgage would be covered in full providing the interest rate you're charged doesn't breach 8%.
Jeremy Cornford
Independent Protection Expert
As mentioned, not all plans assume the same interest rate. Although plans with lower assumed rates come with lower premiums, they provide much less security in the event of interest rate fluctuations.
Need Help? Start Live Chat with our Experts

Neil
Pensions Advice

Robert
Income Protection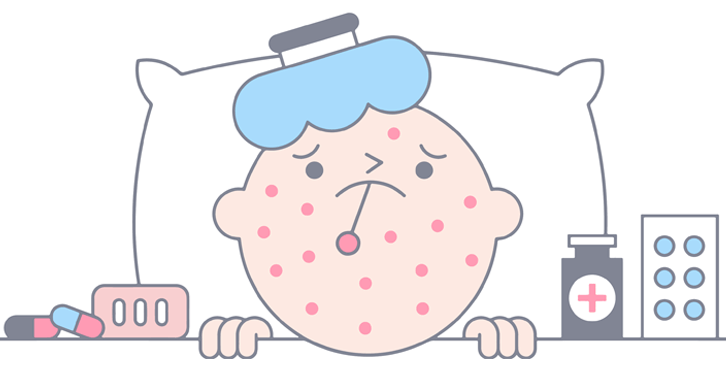 Does Critical Illness Cover Decline When Paired With Decreasing Life Insurance?
As with all Life Insurance policies, you can add Critical Illness Cover to Decreasing Term Life Insurance. This increases your mortgage protection as the policy will pay out not only on death, but also if you develop an insurer-specified critical illness.
When you choose Decreasing Term Mortgage Life Insurance with Critical Illness Cover, the Critical Illness element declines just like the Mortgage Life Insurance part of the plan.
Critical Illness Insurance pays out a lump sum should you be diagnosed with a serious illness. When combined with Decreasing Term Life Insurance, it becomes a reducing Critical Illness benefit that will fall in exactly the same way as the life cover (given the assumed policy interest rate).
Most Critical Illness Insurance policies will cover around 40 medical conditions, including the 'big three' illnesses: cancer, heart attacks and strokes.
However, some of the better plans will cover in excess of 100 conditions, so it's important you compare Critical Illness Insurance policies on a like-for-like basis in terms of coverage. An expert adviser who knows the market inside out is well-placed to lay this out for you.
Sam Barr-Worsfold
Independent Protection Expert
If you're taking out a Critical Illness policy for protection against ill health, you may be better served with an Income Protection policy, which covers a wider array of conditions and can be more cost-effective.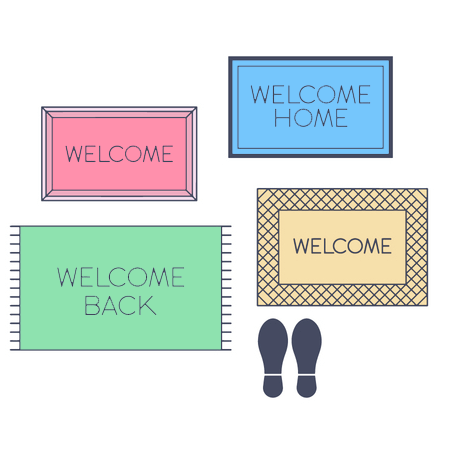 Advantage of Decreasing Life Insurance
One of the biggest advantages of Decreasing Mortgage Term Assurance is that the policy is aligned with your mortgage, falling as the value of your outstanding mortgage debt falls over time.
As the benefit reduces with Decreasing Term Life Insurance, the risk and cost to the insurer falls alongside it. Given this, premiums are cheaper than Level Life Insurance, where the payout remains constant over time and the risk to the insurer remains the same across the term of the policy.
Level Life Insurance policies are most suited to repaying interest-only mortgages, where the amount of capital doesn't fall across the term of the mortgage as you're only repaying the interest.
Level Life Insurance vs Decreasing Life Insurance
In some cases, Level Life Term Insurance might be a better choice for you than Reducing Term Life Insurance. This depends on your needs.
Reducing Term Life Assurance won't provide your loved ones with much of a lump sum in excess of the cash needed to repay your mortgage. This could lead to a situation where although your beneficiaries have repaid the mortgage and own their home outright, they might not have sufficient cash to run the home, i.e. covering bills and maintenance etc.

Additionally, you may also want to some cash left over to cover funeral expenses, or to help cushion the blow from a sudden loss of income.
For this, a Level Term Life Assurance policy would be far better suited because the payout will remain fixed over time. So if you die halfway through the mortgage, the payout will be enough not only to cover the rest of your mortgage but also provide a lump sum with the remainder of the insured benefit.
Life Expectancy Calculator
Your Life Expectancy Results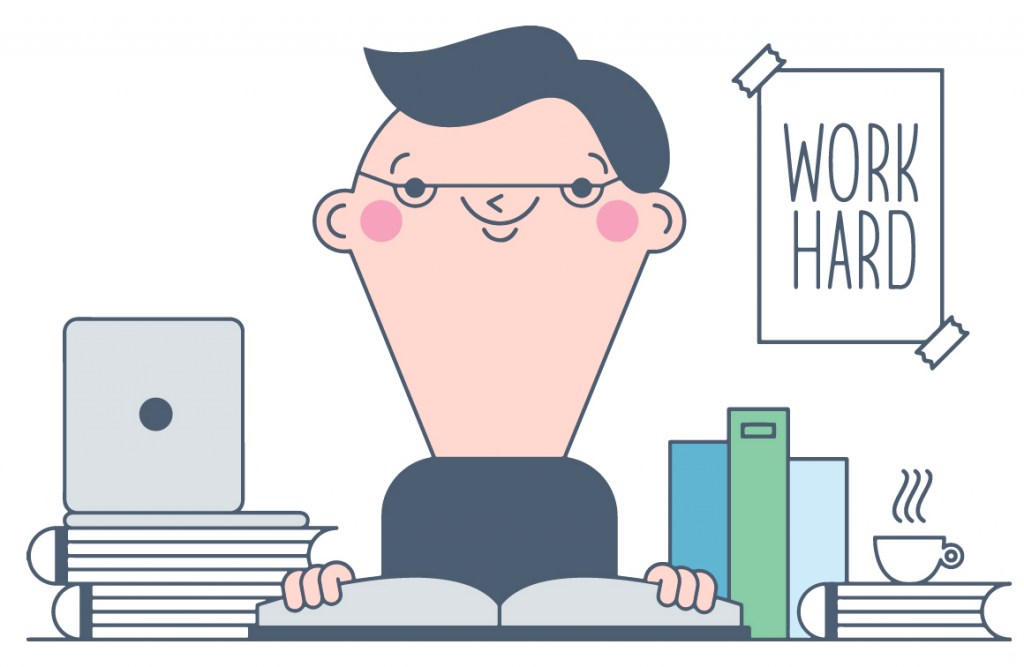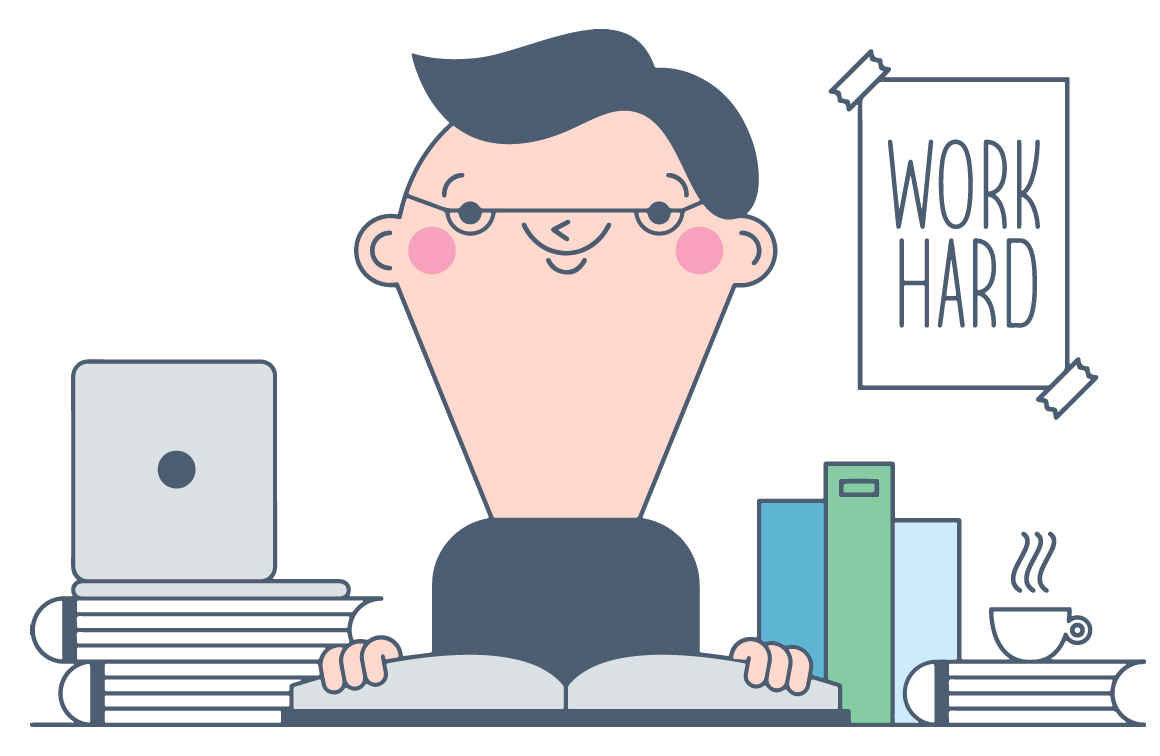 Need Help? Get Decreasing Life Insurance Advice
With Decreasing Term Life Insurance, you'll need to ensure that the rate of decrease doesn't exceed your mortgage interest rate. An adviser can double check this for you.
Given that many people buy their home as a couple and have joint mortgages, it may seem logical to get a joint Reducing Life Insurance policy. However, this is also worth discussing with an adviser – in many cases two single Life Insurance policies might be better suited to your circumstances.

At Drewberry we help clients with Decreasing Term Life Insurance every day, so we know the market like the back of our hands.
We're more than happy to help you with your enquiries and get you a policy in place – just drop us a line on 01273646484 for expert advice.
Samantha Haffenden-Angear
Independent Protection Expert at Drewberry
Compare Top 10 UK
Protection
Insurers

Takes approx. 60 seconds
Frequently Asked Life Insurance Questions
I'm looking to replace my existing Life Insurance cover as i'm moving jobs and it's...
I was planning on taking out Life Insurance for my kids and came across Family Income Benefit. I wanted...
We have just increased our mortgage. Although we have existing life insurance, this no longer covers...
My wife and I have just purchased a house and need to get insurance to cover the mortgage should one...
Other Popular Articles

Read our 2019 Best Life Insurance Guide, get expert advice and compare online quotes from Aviva, Vitality and other top UK insurers....


Use our 2019 Term Life Insurance Calculator, get expert advice and compare online quotes from Aviva, Vitality and other top UK insurers...


Read our 2019 Company Life Insurance Guide and find out when your company can pay your life insurance premiums, get expert advice and compare online quotes from Aviva, Vitality...


Our 2019 guide to help you understand how much life insurance costs, get expert advice and compare online quotes from the top UK insurers...