Will Vaping Mean Cheaper Insurance Premiums?
"Although millions of Britons are now turning to vaping as an alternative to 'sparking up'," says Drewberry Independent Protection Expert, Victoria Slade, "UK insurers are still likely to double your
Life Insurance
premiums."
Vaping vs Smoking: How It Affects the Cost of Insurance Premiums
According to the latest ONS statistics on UK smoking habits, there were already some 2.3 million Britons who had turned to vaping – around 4% of the population – by 2015. Apparently, around half of those to have taken up the electronic newcomer have done so in an attempt to quit smoking.
Unfortunately, UK insurers have yet to be convinced of the benefits – despite the steep rise of vaping as an alternative to smoking, the UK's insurers are yet to see any major change in stance on the issue.

As independent, whole of market protection advisers we deal with every insurer in the UK. However, we currently only know of one insurer – Unum – that's willing to treat a 'vaper' as a non-smoker.
In almost all cases, vaping is treated exactly the same as smoking for insurance purposes and you could face premium loading of 100% or more.
Victoria Slade
Independent Protection Expert at Drewberry
Smoking still accounts for almost 80,000 UK mortalities a year or around 17% of all deaths in people aged 35 and over, even as the number of people lighting up falls.
Yet despite Public Health England stating two years ago that e-cigarettes are 95% less harmful to health than normal cigarettes, insurers have yet to be moved as so little data exists as to the long-term health implications of vaping.
This means that there's effectively no insurance benefit whatsoever in switching from tobacco to vaping so there's no point in shopping around for a better quote on your insurance.
Insurer Claims Statistics
When choosing our personal protection we want to know it is going to pay out when we need it to.
By choosing a product or specific insurer from the menu below you will be able to view the claims payout rates for all of the main UK insurers for income protection, life insurance and critical illness insurance.
Insurer
2015
Percentage of Successful Claims
2016
Percentage of Successful Claims
2017
Percentage of Successful Claims
Critical Illness Insurance
Clouding the Issue: Insurance Premiums and Nicotine Replacement
It's not just vaping that fall foul of these strict rules. You have to keep in mind that insurers will also load life insurance premiums if you use e-cigarettes, patches or nicotine gum.
Probably the best rule to keep in mind is that if you inhale, chew or absorb anything that contains nicotine, UK insurers will treat you as a smoker and pretty much double your insurance premiums.

We've also had clients who saw their premiums loaded after they admitted smoking a hookah on holiday and, on one occasion, a client who revealed that they'd tried a cigarette once at a party and their premiums were loaded just the same!
The point is that insurers still tend to look on patches, gum and vaping as 'crutches', used by those who are likely to drift back to smoking cigarettes once more. Don't forget that nicotine is one of the most addictive substances out there.
Victoria Slade
Independent Protection Expert at Drewberry
Life Insurance for smokers generally costs twice as much for non-smokers, and it rises even higher if you're still smoking in your forties. Meanwhile, smokers also tend to pay at least 25% more for Income Protection Insurance.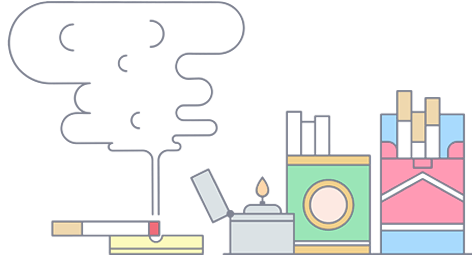 'No Butts' – Ex-Smokers Should Take the Test to Get Cheaper Life Insurance
Thanks to the continued success of nationwide quitting campaigns such as National No Smoking Day, several million Britons claim to have kicked the habit in recent years, and this is supported by the latest surveys.

Unfortunately, despite quitting smoking being a golden opportunity to reduce your insurance premiums, there are currently few signs that the 500,000 or so Britons who claim to give up every year are doing so.
After a year on the wagon, former smokers can apply to have their insurance re-rated. They just need to sign a non-smoker declaration and take a simple cotinine test that's administered by their doctor.
Providing that the test find no cotinine – a chemical formed by the breakdown of nicotine in your body – in your blood stream – your insurer should recalculate your premiums and lower the cost of your insurance.

Those who take the time to get tested could potentially halve the price of their insurance but it seems that most former smokers forget to cash in after they've done all the hard work!
Tom Conner
Director at Drewberry