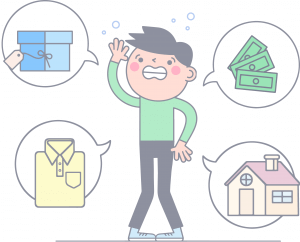 55% of SME Workers Regularly Feel Stressed (and It's Even Worse for the Young)
A new survey of SME workers has found:
More than 1 in 3 workers needed time off in the past 12 months to deal with stress, depression, anxiety or other mental health issues
This rose to 65.1% of people aged 18-24
Stress a Key Issue to Address for SMEs
In an alarming wake-up call for SME owners, more than half of employees at such firms have admitted to regularly feeling stressed – and work ranked second on the list of things stressing them out.
Money worries topped the list, however. 59% were concerned about money, followed by:
Work (43.9%)

Family responsibilities (33.3%)

Mental health (16%)

Physical health (13.8%).
The young are particularly stressed, with almost 2 in 3 workers aged 18-24 saying they regularly felt this way. For them, money worries are far and away the top stressor – 73.5% said money was a concern for them compared with 41% who were concerned about work.
Stress appears to be taking its toll. 1 in 3 SME employees said they'd needed to take sick leave in the past 12 months due to their mental health, more than double the proportion who'd needed time off due to what you might think were more common musculoskeletal problems, such as bad backs.
The most common reasons for taking time off sick were:
Minor illness, e.g. colds, flu, stomach upsets, headaches etc. (58.9%)

Mental health, e.g. depression, anxiety etc. (17.7%)

Stress

(16%)

Caring for family member (14.5%)

Musculoskeletal issues (13.5%).
Tom Conner, Director at Drewberry
"With mental health conditions becoming an increasing concern for the UK workforce, the announcement of extra mental health spending in the Chancellor's 2018 Budget was welcome," says Tom Conner, Director of Financial Advisers Drewberry.
"However, the Chancellor seemed to focus largely on treating acute and more severe symptoms of mental health problems, with funding for mental health ambulances, crisis support in A&E and a 24-hour mental health hotline for those suffering from a mental health episode.
"What appeared less available in the Budget was better treatment for less severe, non-crisis episodes of poor mental health that affect large proportions of the population and prevent individuals from working.
"More funding for 'talking therapies' such as cognitive behavioural therapy and better access to general mental health services so problems can be dealt with before they reach crisis point would also be welcome but doesn't appear to have been forthcoming this funding round.
"Another recent welcome change to financial legislation is found in the Finance Bill 2017, which introduced a new income tax exemption to cover the first £500 worth of pensions advice provided to an employee in a tax year. It will allow advice not only on pensions, but also on the general financial and tax issues relating to pensions.
"The changes replace existing provisions which limited the exemption solely to pensions advice and was capped at £150 per employee per tax year.
"Under the old legislation, pension advice was a taxable benefit in kind for the employee when an employer provides it, unless it was very restricted in scope and cost £150 or less per individual in the relevant year. Employers therefore had to report the value of the benefit if this amount was exceeded. Now, thanks to this new legislation, employers will no longer have to report advice costing between £150 and £500 provided the relevant conditions are met."

Nadeem Farid, Head of Employee Benefits at Drewberry
Given that mental health is such a concern, what can employers do to address the issue? As Nadeem Farid, Head of Employee Benefits at Drewberry explains, one potential option could be to introduce an insurance benefit for your workforce and encourage use of the accompanying Employee Assistance Program.
Such a program offers an array of services to employees, including:
Legal advice

Financial assistance / guidance (e.g. debt counselling)

Medical advice

Remote GP services

Bereavement counselling

Face-to-face counselling / CBT

Rehabilitation services / physiotherapy
"Even a policy as simple as Group Life Insurance – the least expensive employee benefit insurance available – often comes with at least some form of Employee Assistance Program," says Nadeem. "Employees don't need to be claiming on a group policy to be able to use the benefits. The medical advice, remote GP services, bereavement counselling and face-to-face therapy can all help with employees' mental health.
"Meanwhile, the financial guidance / assistance can be invaluable given so many people are stressed about money."
Of course, sometimes employers need to consider a cultural shift in the workplace to improve mental health among workers. This might include:
Encouraging staff to take all their holidays and appropriate breaks during the day

Otherwise promoting a better work / life balance, such as discouraging out of hours working

Raising awareness of mental health and wellbeing in the workplace

Promoting a culture of openness

Engaging the workforce in decision making and ensuring two-way communication between bosses and workers
"An Employee Assistance Program can be an important first step towards tackling poor mental health in the workplace, but sometimes even this helping hand can only go so far," says Nadeem.