Why Applegate chose Keyman Insurance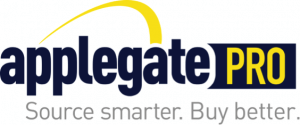 Protecting a British B2B success story
Stuart Brocklehurst's career spans several highly successful digital commerce roles for leading financial institutions and numerous acquisitions and non-executive directorships in the IT sector.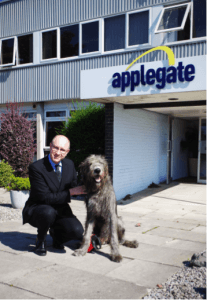 More recently, he spent a spell living in Madrid where he worked on the successful IPO of Amadeus IT Group and eventually became its Group Communications Director.
In 2014, Stuart joined Applegate, an online marketplace with long-standing links to the engineering sector. By then the business was already 18 years old, and Stuart set about triggering the next stage of its evolution.
"Applegate had built up a large base of suppliers detailing many millions of products on the site, from complex services and high-end engineering to office supplies and loo rolls," Stuart explains.
"We built on this by developing Applegate PRO, a free to use eProcurement platform that enables buyers to get multiple quotes quickly and easily, to record their purchasing history and issue purchase orders."
Engineering greatness – onwards and upwards…
Since the business refocused, success has not been slow in coming. "Our platform provides businesses of all shapes and sizes with the opportunity to create their own online marketing packages that include company profiles, videos, social media activity, banner advertising and the power to create thousands of individual product and services pages."
"Our digital marketplace has already become the most focused B2B buyer community in the UK," says Stuart, "with hundreds of thousands of buyers choosing to use Applegate every month – including some of the true whales of the global procurement market."
"Soon after we launched Applegate PRO we had BAE Systems, General Electric and General Dynamics all using the platform for their procurement needs. Since then we've also attracted the likes of NATO and the US Navy. I came in one morning to find that the White House was also using Applegate PRO," he says.
After the success of its initial offering, Applegate, based in Barnstaple in Devon, is now busily targeting international expansion. It's been given a boost by a £240,000 government grant which is helping to fund investment into the new functionality and tech infrastructure the platform needs to keep growing. "Right now it's about scaling our business for the future," says Stuart. "Thinking about the future is also what drove me to look into key person cover."
Compare Top 10 UK Business Insurers
Protecting Applegate with Keyman Insurance
Thanks to the ongoing success of its platform, Applegate now employs 56 people and is set to continue growing. "It became clear that my death could potentially derail the company's progress, threatening the livelihoods of everyone who works at Applegate," says Stuart.
"The idea was to put a sufficient sum in place to fund the cost of a replacement who could lead the business through its current stage of expansion in my absence."
"As a business owner your goal is to create something that will live on after you're gone and business protection is a crucial part of this," says Stuart.
"After researching the market, we found Drewberry thanks to its strong online presence. Our adviser suggested we add critical illness cover to ensure that the business was also protected in the event of short or long-term illness. It was a painless process that was underlined by a doctor coming to my house one weekend to conduct the medical.
"We can now rely on practical support in the event of a crisis," says Stuart, "but the benefits extend much further than this. Although we didn't take out cover for this reason, we find partners, suppliers and clients are reassured not just by the existence of cover, but also by the long-term thinking it demonstrates."

"We settled on a £500,000 life and critical illness policy with a five-year term. A five-year term kept costs low and would last until the business had completed its latest growth phase. We opted for Vitality as it offers the most comprehensive cover on the market, including superior pay outs for heart attack and stroke."
Victoria Slade
Drewberry Adviser for Applegate Keyman Policy
Compare Top 10 UK
Protection
Insurers

Takes approx. 60 seconds

Written by:
Andrew Jenkinson
Similar Posts