6 Reasons that might stop you taking out Income Protection…
Let's take a look at the six most common reasons individuals decide against taking out
income protection insurance
and discuss the merits of each.
1. You don't think it will happen to you
We humans are ever the optimists particularly when it comes to things we don't want to happen. In our 2013 Health & Protection Survey we asked 2,000 workers to estimate the chances of someone needing to be off work for over 6 months during their working life due to ill health. Before sharing the results, what do you think the actual answer is: 1 in…?
Compare Top 10 UK
Protection
Insurers
Takes approx. 60 seconds
The actual risk is a 1 in 10 chance of Incapacity
The median answer from the survey turned out to be 1 in 30, which at face value doesn't sound too unreasonable, right? In fact, the actual answer is that 1 in 10 of us needs to take over 6 months off work during our working lives due to ill health (Unum / Guardian, 2011).
For those that have studied psychology, it is well known that the human brain is full of cognitive biases, and one of them is called the 'optimism bias', i.e. the 'it won't happen to me' bias.
In this respect it's not surprising that the actual risk of incapacity is three times higher than our survey respondents believed and therefore it's also not surprising that so many people decide to take their chances without insurance.
2. You think it is too expensive
Following on from the points above, is it any wonder why income protection insurance can be perceived as expensive if we all tend to underestimate the chances of needing to claim by three times what it actually is.
It's important to remember that when setting the amount of premium to charge insurers firstly want to make sure the cumulative premiums are enough to pay all the claims received and cover their administrative costs. Beyond that the insurers naturally hope to make a profit.
A suspicious mind might think that premiums are 'expensive' because insurers are making huge profits, but this generally isn't the case given how competitive it is in the UK insurance market.
For example, a Deloitte study found that in 2012 the cost of paying claims and administrative costs outstripped the amount of premium income received across all UK motor insurers, i.e. the whole market made an 'underwriting loss'.
3. You are concerned about the insurers paying claims
There's probably a psychological reason but the human brain seems to be more attracted to bad rather than good news, which could be why the evening news is often filled with stories of crime and unscrupulous politicians. In this vein the media are far more likely to publish a story about an insurer declining a claim rather than paying one.
This is also probably helped by the fact that someone who's had their claim declined is far more likely to seek retribution through the media. The end result is that we continuously see stories of insurer's declining claims and this has probably molded our expectations to think more claims are declined than is actually the case.
In our 2013 Health & Protection Survey we asked 2,000 workers what proportion of life insurance claims they thought were paid by the top five life insurers. We were really surprised that the median answer was only 50% of claims being paid. This misconception is very disappointing to see and one we as an industry need to do better changes. In 2012 the top five insurers actually paid 98% of all life insurance claims (check out our claims tool to see payout rates for each insurer).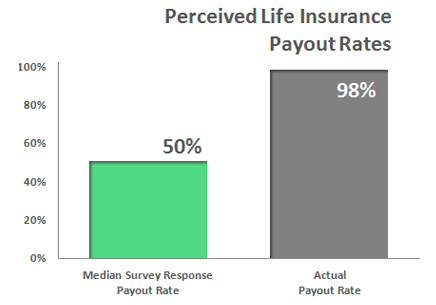 4. You believe that the Government will provide for you
It is often argued that people don't take out income protection insurance because they believe that the State will fully provide for them if they have to cease work due to ill health. Maybe some people have this view because the NHS is usually very good and is free or because of stories in the press about benefit cheats scamming the government for thousands.
I think if you were to ask anyone receiving incapacity support from the State it'd become clear very quickly that a life on benefits is more than tough financially. The state support available is called the Employment & Support Allowance (ESA) and ranges from £57.35 to £108.15 per week depending on your age and the severity of your condition.
5. You believe your employer will provide for you
When deciding if you need income protection it is definitely important to find out what your employer would provide you with, but don't be surprised if it's less than what you thought.
It is law that all employers have to provide Statutory Sick Pay (SSP) of £87.55 per week for up to 28 weeks, and that's it. Some employers choose to go beyond this and provide a level of full sick pay for a period of time, however in our 2013 Health & Protection Survey nearly 50% of respondents stated that they would receive either no additional sick pay or only up to 3 months of pay.
The most generous employers are government departments where employees usually receive up to 6 months of full sick pay. Although this level of sick pay is great it doesn't mean that income protection isn't needed. In 2011 one insurer, LV published that their average claim length was 7 years long which puts 6 months of sick pay into perspective!
Some very generous employers do offer income protection as an employee benefit so this is definitely worth checking before taking out cover. However, with around 2 million people being covered by a work scheme that's less than 7% of the UK workforce.
6. You would prefer to save rather than pay for insurance
If you have a look at online newspaper stories about protection insurance it won't take you long to find a reader comment at the bottom that says something along the lines of 'don't buy insurance, save the premiums instead', but it's very difficult to see the logic in this.
For example, supposing your net income is £2,000 per month and your monthly expenditure for your mortgage / rent and other essential bills is £1,500. Given this even if you saved all of your spare income of £500 per month it'd take you three years to save one year's worth of expenses.
With LV's average income protection claim length being 7 years you'd have to save for half of your working life to be anywhere near close to safe against the financial impact of incapacity. Surely it would be better to gain immediate cover by paying a premium of say £50 per month for £1,500 per month of income protection and save the remaining £450 per month for retirement?
Other Popular Articles


3 million UK workers have Salary Protection policies today, but many still don't. Find out for yourself why UK Income Protection Insurance is so important.


We answer the most common questions about Income Protection Insurance. We cover some of the most frequently asked Accident and Sickness Insurance questions, including what it covers, what it...

A series of protection case studies covering the types of client we work with and the quality of holistic advice we are able to provide.

A guide to help you decide whether Income Protection is worth it? Understand your risks, what would be paid out and how much you can expect to pay...