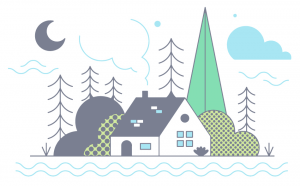 Do I Need Mortgage Insurance?
Mortgage Insurance is split into two distinct products:
Each type of Mortgage Insurance covers very real – yet very different – risks.
How do you know which type of cover is right for you? And how can you tell whether you need to insure your mortgage or whether you'll be able to cope without it?
Compare Top 10 UK
Protection
Insurers

Takes approx. 60 seconds
This Guide

Written by:
Michael Englefield
Content Manager at Drewberry
⏰  10 min read
Who Needs Mortgage Protection Insurance?
The payout of a Mortgage Protection Insurance policy will either cover your monthly mortgage payments temporarily if you are unable to work or pay off your mortgage debt entirely if you were to pass away.
Accident & Sickness
If you are ill or injured and not able to work, Mortgage Payment Protection can pay out a monthly benefit that covers the cost of your mortgage payments.
Unemployment
If you are made redundant, some MPPI policies will help you keep up with your monthly mortgage payments until you return to work.
Death
If you pass away, Mortgage Life Insurance can kick in and pay out a lump-sum to your family. This payout will cover your remaining mortgage debt so your loved ones can pay off the loan all at once.
Essentially, anyone with a mortgage needs to ask themselves if they could afford repayments if they couldn't work due to accident, sickness, illness or injury.
If you're considering Mortgage Life Insurance, ask yourself what's protecting your family and their home in the event that you pass away.
Need Help? Start Live Chat with our Experts

Neil
Pensions Advice

Robert
Income Protection
The Statistics: Do I Need to Protect my Mortgage?
Can you afford mortgage repayments without income?
According to Drewberry's Wealth & Protection Survey 2017, 2 out of 5 people in the UK have no more than £1,000 in cash savings. This is backed up by government statistics, which reveal that, as of June 2017, the UK household savings ratio has hit an all time low since records began in 1963
What would happen to your family if you passed away?
Sadly, in 2016 almost 600,000 people passed away in the UK. More than 1 in 10 of these deaths were among people aged 20-60 – many of whom likely had a mortgage and a family. Could your loved ones keep paying the mortgage if your income was lost due to your death?

This would be an impossible debt for many families to repay in the event of the death of a loved one who's income contributed most to the mortgage repayments. It is why getting the right mortgage protection is such an important piece of financial planning.
Samantha Haffenden-Angear
Independent Protection Expert
Is Mortgage Insurance Compulsory?
It may feel like Mortgage Insurance is mandatory for a mortgage to be approved but that's not the case. However, it does have a lot of benefits that make it a worthwhile protection product to consider.
If you're injured or diagnosed with a serious illness such as cancer, you may need to leave work to receive treatment, potentially depriving your household of a primary earner.
As well as the risk of not being able to work due to accident or sickness, consider what would happen if you passed away. 11.2% of people who died in the UK in 2016 were aged between 20 and 60.
While Mortgage Protection Insurance might not be right for everyone, having some form of protection against illness or death should be a priority for homeowners –especially those with families.
The right kind of protection insurance could defend against the worst, but the difficulty for most people is knowing exactly what cover meets their needs.
Robert Harvey
Independent Protection Expert

Provided excellent, in-depth advice on the income protection market and researched the market thoroughly to find cover which suited my needs.
Chris Wade
18/03/2019
Do I Need Mortgage Life Insurance?
Mortgage Life Insurance is designed to pay out a lump sum to your beneficiaries to pay off the mortgage in full in the event of death or the diagnosis of a terminal illness. This usually means that your loved ones are able to stay in the home without worrying about keeping up with mortgage payments.
How Does Mortgage Life Insurance Work?
You pass away or develop a terminal illness during the policy term
You/your family make a claim with the insurer, providing evidence of your death in the form of a death certificate
The insurer will pay the promised amount either directly to your family or into a trust (see below)
The Life Insurance payout is used to repay the mortgage loan in full.
Do I Need Level Term or Decreasing Mortgage Life Insurance?
There are two types of Mortgage Life Insurance that you need to be aware of in order to find the right one for you:
Decreasing Term
Level Term 
They offer considerably different levels of cover, which is why it is so important that you know the difference between decreasing and level life insurance before you start shopping for policies.
What is Decreasing Life Insurance?
Decreasing Term Mortgage Life Insurance is a type of Life Insurance where the cover falls over time to match the decreasing value of your mortgage.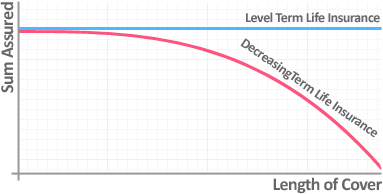 With a straightforward capital repayment mortgage, as you make mortgage payments the amount you owe to your mortgage lender shrinks. Decreasing life insurance is designed to shrink alongside your mortgage.
Decreasing cover is usually the cheaper of the two types of Mortgage Life Insurance. This is because the risk to the insurer falls as the policy goes on.
It is wise to speak to an expert Mortgage Insurance adviser such as one of the team at Drewberry to help you find an insurer and policy that will mirror your outstanding mortgage. That way, you can be certain that, even though the policy benefit declines over time, it will always be enough mortgage cover to pay off the outstanding debt in full.
Make sure your Decreasing Mortgage Life Insurance interest rate doesn't exceed the interest rate on your mortgage. If it does, your Mortgage Life Insurance policy may not be able to cover the cost of your mortgage payments.
What is Level Life Insurance?
Level Mortgage Life Insurance provides level coverage throughout the entirety of your policy. It's therefore particularly suited to interest-only mortgages, where the amount of cover you need remains fixed over time along with your outstanding mortgage balance.

As well as being an option for those with interest-only mortgages, some people use Level Life Insurance as a way of leaving a sum over and above their outstanding mortgage balance.
For instance, you may want to look at this option if you want cash to cover your mortgage plus extra money for your family to sort out their bills or pay for a funeral.
Level mortgage life insurance tends to be the more expensive option out of the two because the risk to the insurer remains fixed over time, even as you get older and the risk of you claiming increases.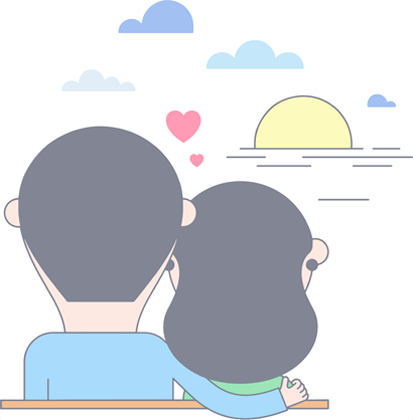 Do I Need Single or Joint Mortgage Life Insurance?
If you're living with a partner, you may also want to think about a Joint Mortgage Life Insurance policy (which is also known as Shared Mortgage Life Insurance). With this type of mortgage protection, your mortgage would be paid off in full should either of you die.
With a joint policy, if either you or your partner were to die while you have this policy, the insurer would pay out to the surviving person.
However, such cover will only ever pay out once, after the first death the policy will end. This means that the surviving partner would not have any Life Insurance after their partner dies and reapplying for Life Insurance can be more expensive later in life due to increased age and poorer health.
A Joint Life Insurance policy can also be a problem if you and your partner separate, as there's not always a way to split these policies into two separate single Life Insurance policies after a divorce.
Do I Need to Write my Life Insurance in Trust?
There's not as much need to write Joint Mortgage Life Insurance in trust as the sum is not usually considered for Inheritance Tax.
This is because the sum typically goes to a surviving spouse, and transfers between spouses are normally IHT-free. Another reason why you might not need to write Mortgage Insurance into trust is the sum is destined for the mortgage lender, so the outstanding mortgage balance on the estate negates the lump sum received from the Life Insurance.

However, problems may arise where the couple named on the policy aren't married and so don't get the IHT exemption.
In other instances, it may simply offer more control to write the policy into trust – the process is free and Drewberry's experts can facilitate it, so it might be something you want to consider regardless.
If you opt for two single Life Insurance policies there is a need to write each policy into its own trust as the sum doesn't automatically go to the surviving partner and is paid into the estate of the deceased.

For the most comprehensive Mortgage Life Insurance for couples, we often recommend two separate individual policies.
While two policies might be slightly more expensive to start with, it's generally only a few pounds more compared to Joint Life Insurance and you have effectively secured twice as much life cover.
Samantha Haffenden-Angear
Independent Protection Expert at Drewberry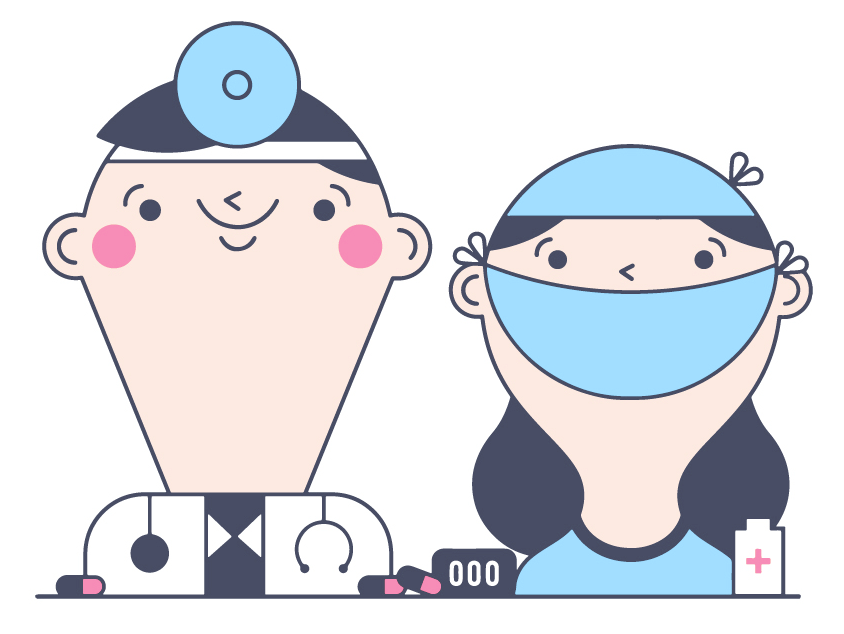 Do I Need Critical Illness Insurance for My Mortgage?
While Life Insurance plans pay out upon death or diagnosis of a terminal illness, Critical Illness Cover (CIC) will pay out if you develop a critical illness or injury.
If you have Mortgage Life Insurance with Critical Illness Cover, your plan will pay out for either death or a serious illness.
Critical Illness cover will pay out a tax-free lump sum if you are diagnosed with an illness that your insurer has specified. The three most common reasons for claiming on these policies are cancer, heart attacks and strokes.
Critical Illness Insurance has been a lifeline for people across the country, but one thing you have to consider is that the definition of a 'critical illness' differs depending on your insurer. Always check the small print on the policy or, better, get an expert adviser from Drewberry to do it for you!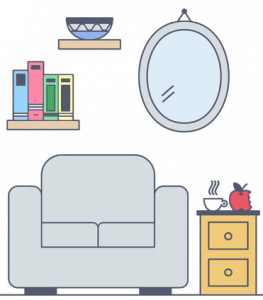 Do I Need Mortgage Payment Protection?
According to our 2016 Wealth and Protection Survey, 43.8% of people said they'd rely on savings if they needed to take six months or more off work due to illness or injury. However, our Wealth & Protection Survey 2017 found that:
2 out of 5 people in the UK have no more than £1,000 in cash savings.
38.4% of people would describe their financial situation as 'just about managing'. 12% describe theirs as 'hanging by a thread'.
The number of people having their homes repossessed due to mortgage default has dropped since the 2008 financial crisis, when repossessions spiked from 27,000 in 2007 to 44,100 in 2009 according to the Council of Mortgage Lenders. This is an increase of 63.3%.
However, despite falling repossessions, the level of UK mortgage debt is still high – in May 2017, the UK owed £1.34 trillion in outstanding mortgages. Even in 2017 there are an estimated 14 properties being repossessed every day. How would you repay your mortgage if you couldn't work due to illness, injury or forced unemployment?
44.9% of British people have a mortgage and 1 out of 4 Brits still has at least £100,000 left on their mortgage.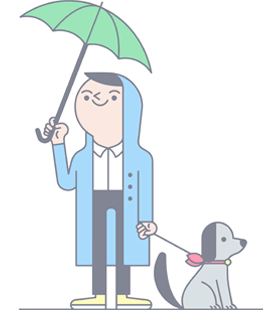 Do You Have Enough Financial Support for Your Mortgage?
More than 40% of people stated that they would use either State Benefits or Employee Benefits to pay their living expenses if they needed to take time off work. However:
Who Might Benefit from Mortgage Payment Protection?
If you only needed to cover your mortgage payments for a short time, Mortgage Payment Protection Insurance might be a good option. Given that it's short-term, it tends to be among the cheaper methods of protecting your mortgage because claims are often capped to a maximum of 12-24 months and premiums are reviewable.

The payout length is a maximum of between 12 and 24 months per eligible claim, which means that it may not be enough to support you if you were to have a serious illness or injury that took you out of work for several years.
Many MPPI policies also have a maximum benefit cap of either £2,000 or 125% of your mortgage, whichever is lower. This means that any amount that you receive in addition to the sum that covers your mortgage payment may not be enough to help you pay off other monthly bills.
Do I Need Mortgage Payment Protection or Income Protection?
While MPPI can kick in to keep up with your mortgage repayments if you can't work due to accident, sickness or unemployment, it's a short-term product. This could be problematic if you fell ill with a long-term condition.
For this reason, we generally recommend standard Accident & Sickness Insurance, also known as Income Protection Insurance, potentially alongside a standalone Unemployment policy if redundancy cover is required, as this could provide a more comprehensive protection for your circumstances.
While Mortgage Payment Protection has its benefits, there are certain limitations that may mean it's not always the best product for everyone. For those wanting long-term cover, it may be worth considering a traditional long-term Income Protection policy.
MPPI vs Income Protection Insurance
MPPI is usually cheaper than Income Protection – as MPPI offers short-term and generally more limited cover compared to Income Protection, it's usually tends to be the cheaper option of the two
Mortgage Payment Protection Insurance offers short-term cover – MPPI usually pays out for a maximum of either 12 or 24 months
Income Protection can provide long-term cover – the best  plans let you pre-define when you want the policy to end, often aligned with your retirement age
MPPI ends when your mortgage does – given it's linked to your mortgage, it ends when you've paid off your mortgage, whereas the best Income Protection policies will cover you up until retirement
Mortgage payment protection only covers your mortgage – while some plans will cover up to 125% of your monthly mortgage repayments, this only provides cover for your mortgage and very limited other expenses, whereas Income Protection is linked to a percentage of your income
Mortgage Payment Protection often has reviewable premiums – with reviewable premiums, insurers are entitled to review your premiums annually, which may lead to significant increases
Income Protection offers guaranteed premiums as an option – for those eligible, opting for guaranteed premiums fixes the monthly cost of your cover for the life of the policy.
Better Income Protection policies have superior incapacity definitions – Drewberry only ever recommends own occupation Income Protection so the policy will pay out if you can't do your specific job, whereas Mortgage Payment Protection Insurance typically uses an inferior definition such as 'suited occupation', which means the policy won't pay out if the insurer judges you capable of doing a job suited to your skillset, even if it's on lower pay.
Summing Up: Which Mortgage Insurance Do I Need?
Do I Need Mortgage Life Insurance?
Covers death and (usually) diagnosis of terminal illness
Pays out a tax-free lump sum that can be used to pay off any remaining mortgage debt
'Term' Mortgage Life Insurance covers you for the set term of the mortgage, i.e. until your loan has been completely repaid

Mortgage Life Insurance is an option to consider if you're looking to ensure that your loved ones are taken care of after your death. The payout from your Life Insurance plan means they won't have to worry about paying off the mortgage.
Rauri Taylor
Independent Protection Expert at Drewberry
Should I Add Critical Illness Cover to my Mortgage Life Insurance?
Covers death and critical illnesses such as heart attacks, cancer and strokes.
Pays out a tax-free lump sum that can be used to repay the remaining mortgage debt in the event of either death or critical illness, providing the critical illness is covered by the policy
Covers you until your mortgage has been completely paid off

Adding Critical Illness cover to your Life Insurance policy will give you additional protection if you become ill. If you develop a critical illness, this policy will pay out a lump sum aligned with your mortgage to ensure you do not need to worry about such financial burdens during difficult times.
Will Martin
Independent Protection Expert at Drewberry
Do I Need Mortgage Income Protection?
Covers a wide range of illnesses and injuries that could prevent you from working
Pays out monthly amounts to cover mortgage payments as well as other living expenses
Covers you until a date of your choosing, potentially keeping you covered until retirement.

Income Protection gives you the option of having long-term cover. If you suffer an accident or sickness, Income Protection will pay out on a monthly basis.
You can use the benefit however you need to, including covering your mortgage repayments and any other expenditure/bills, such as utilities or taxes.
Steffan Alemanno
Independent Protection Expert at Drewberry
Raising Awareness of Income Protection Insurance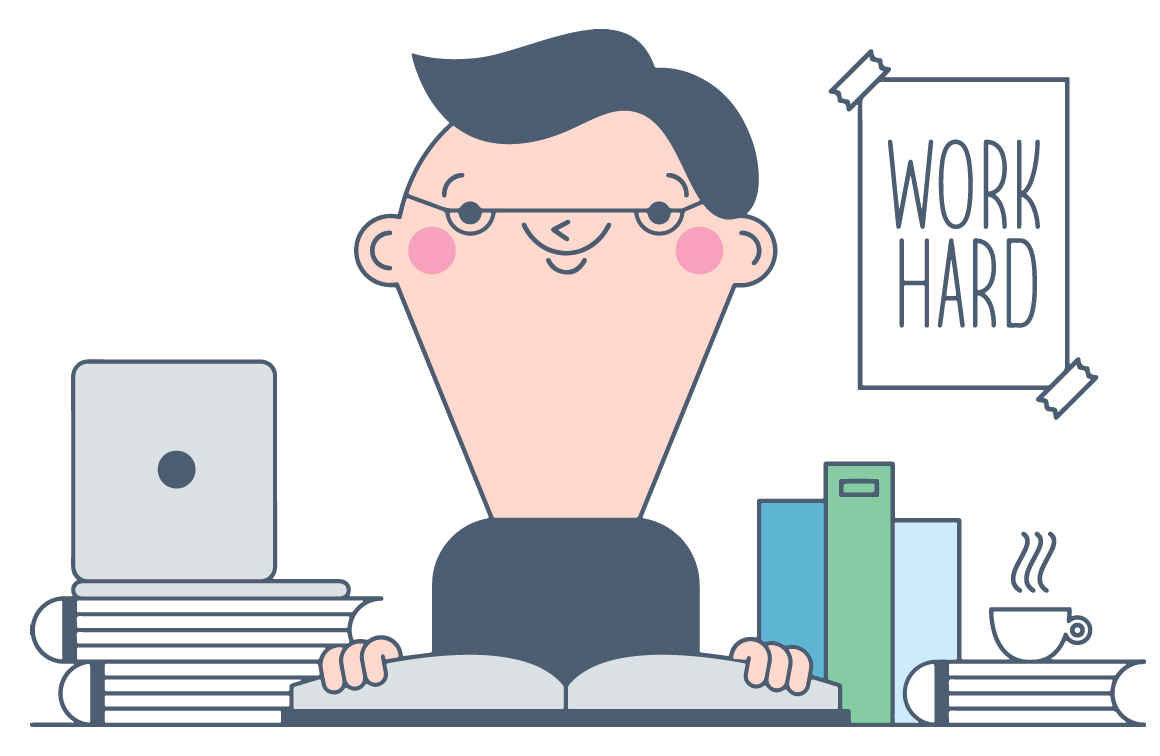 Compare Best UK Insurers and Get Expert Mortgage Insurance Advice
Why not use our Mortgage Insurance Calculator to compare the best UK insurers? Once you've found Mortgage Insurance quotes, you'll have our expert advisers on hand to help you along the way, including advising you on the right policy, the right amount of cover, and how to tailor your policy to give maximum protection for minimal cost.
Key Things to Consider…
When looking for the right Mortgage Insurance policy, there are a few things that you can look out for:
The amount of cover you need will depend on the size of your mortgage, so it's hard to provide an exact cost for Mortgage Insurance without knowing your circumstances.
That is why, in order to understand the quality of your insurance policy, you need to look at all aspects of the cover and think carefully about the benefits before you decide on the one that's right for you.
Mortgage Insurance Advice
As you can see from the above guide, Mortgage Insurance is a broad term which can cover a variety of risks. If you're still not sure whether you need to insure your mortgage, or which Mortgage Insurance you need, why not speak to one of our advisers today? We can help find the right policy for you.
Your options explained – Getting expert advice can help you decide which type of mortgage cover is best for you
Mortgage Insurance tailored to you – No two clients are the same, so we'll listen to your individual needs and circumstances before offering advice
Find and compare Mortgage Insurance quotes – Drewberry's team of experts have access to the entire UK market, letting us pull deals in from every major UK Insurance provider
Get an expert to set up your policy – No one likes paperwork. The team at Drewberry can complete your Mortgage Insurance application over the phone. We can even facilitate writing the policy into trust – we'll just need a quick signature.

At Drewberry, we help our clients secure and protect potentially the most important investment in their life – their homes.
If you're in need of advice and want to know more about Mortgage Protection get in touch with one of our experts today. Just pop us a call on 01273646484 for impartial financial advice.
Victoria Slade
Independent Protection Expert at Drewberry
Compare Top 10 UK
Protection
Insurers

Takes approx. 60 seconds
Frequently Asked Mortgage Protection Insurance Questions
I've got two houses, one of them I live in and the other I rent out. Is it okay to have a mortgage...
I am looking to take out mortgage life insurance and saw there is an option to add critical illness protection....
I'm considering either a critical illness policy or a life insurance policy, is there anything...
For mortgage protection do you need critical illness cover? Is it worth taking out this type...
Other Popular Articles


Use our 2019 UK mortgage insurance calculator to work the type of over you need and how much it will cost. Compare instant online quotes from Aviva, LV, Vitality...


What is the best Mortgage Insurance? Find out about the different types of Mortgage Protection Insurance, what they cover, and which one is right for you.

Find out what Mortgage Insurance covers and compare instant online quotes from Aviva, Legal & General and other top UK Mortgage Protection cover.

Should I choose Level or Decreasing Term Life Insurance to protect my mortgage? Find out whether Level or Decreasing Mortgage Life Insurance is right for you.