Inheritance tax and whole of life cover illustration



Utilising whole of life insurance to mitigate an inheritance tax liability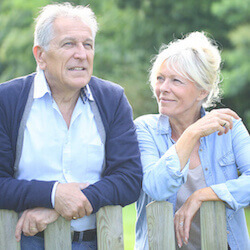 Thanks to a long and successful career and a wealthy first husband, Harry (who died in 1995), Pamela, 66, has amassed a significant £1.8m estate.
She has been married to Tom, 71, for the last 10 years and, between them, they have an estate valued at £2.6m, which includes a £1.2m home.
Let's assume that they have separate Wills which leave all their assets to their four grown-up children.
Currently, if the couple were to die in the 2017 tax year, their inheritance tax (IHT) liability would look like this:
Harry: Inheritance tax liability

Estate value:

£800,000

Nil-rate band allowance

– £325,000

Main residence allowance:

– £100,000

Taxable value of estate:

£375,000

£375,000 x 40% inheritance tax

£150,000 IHT liability
Pamela: Inheritance tax liability

Estate value:

£1,800,000

Nil-rate band allowances:

– £650,000*

Main residence allowance:

– £200,000*

Taxable value of estate:

£950,000

£950,000 x 40% inheritance tax

£380,000 IHT liability
* Pamela inherited an additional nil-rate band and main residence allowance from her late husband Harry.
Compare Top 10 UK Insurers
Find out how a Drewberry financial adviser can help you reach your destination by making the most of your finances.
Call us on
Important note: Having separate Wills and keeping their estates separate ensures that Tom and Pamela can make full use of their respective IHT allowances. If they had a joint Will, they would lose their main residence allowances as their joint estate is worth significantly over £2 million.
A solution to the inheritance tax problem
With four grown up children between them, Pamela and Tom decide to take out individual whole of life policies that match the projected inheritance tax liabilities on their respective estates.
By writing these policies in trust with their children as trustees, the proceeds will be free of any inheritance tax.
Consequently, when Pamela and Tom die, their children will be able to access these funds to pay the outstanding inheritance tax liability on the couple's estate within the required six months.

In the absence of such cover, Pamela and Tom's children might otherwise be forced to borrow the money needed to settle the inheritance tax bill on the couple's estate – a common occurrence in such situations.
Neil Adams
Financial Adviser at Drewberry
Considering that Pamela is now aged 66 and that Tom is 71, the best premiums for their whole of life policies would look like this:
| | | |
| --- | --- | --- |
| Name | Sum assured | Monthly premium |
| Pamela | £380,000 | £814.97 |
| Tom | £150,000 | £479.21 |
Provider: AIG. Based on a single life, whole of life policy.
Need Inheritance Tax Advice?

Loading your options...
Thank you for using our Quote Tool
If you need some help, just call us!
T: 02084327334
Our in-house Experts are here to provide Whole of Market Advice!
Our Experts can answer all your questions
Our Experts can send you more appropriate options based on your personal circumstances
Very important if you are either Self-Employed or a Company Director.
Our online quote tool is good but our Experts are better
Oue Experts have access to far more insurers and can often find a better deal offline.
Saves you time, let our Experts do what they are best at

Written by:
Stephen Moore
Similar Posts